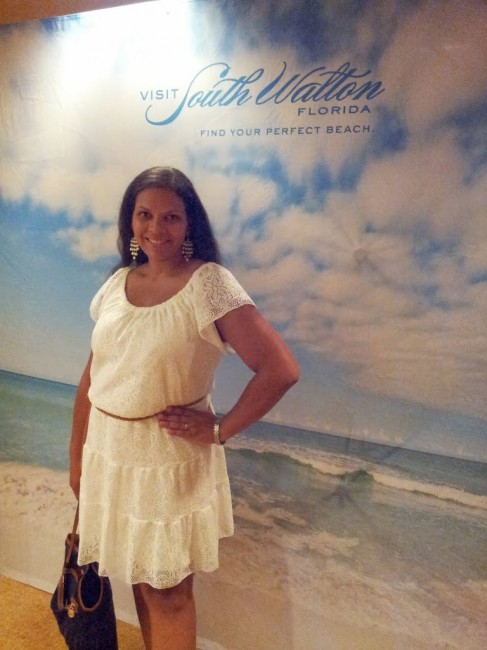 As someone who covers family travel with a passion, I was thrilled to see Visit South Walton as a sponsor for BlogHER, the world's largest blogging conference. It felt odd flying to Chicago to connect with a neighbor from the South but hey…sometimes that's what you have to do. I was able to snag a coveted invite to the Visit South Walton "white" party and hoped to be able to learn more about the destination and why families should head down to Northwest Florida. And learn I did!
I learned that South Walton is:
Has the #1 beach on Earth for families (Seaside) as voted on by Travel + Leisure magazine readers
Less than a 6 hour drive from Atlanta. (Closer than Disney!)
has 16 beaches,meaning there is a beach for every taste…from vibrant to remote.
If the Visit South Walton people are any indication, those who live there are friendly, down-to-Earth, and down right fun.
One place my family and I need to visit…stat.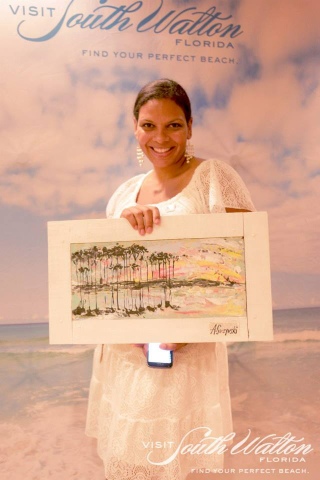 And as a bonus to a fantastic night, I was one of the big winners! No, I didn't win the all-expense paid trip, but I did win an original art piece by
Andy Saczynski
, the South Walton 2013 Artist of the Year. It is just awesome! I can now have a visual when I daydream about the beach. Want to see more works by this talented artist? He's bringing his show to Atlanta's
Slotin Festival
August 16-18.
Want to know more about South Walton? They are hitting the road to promote the area and may be coming to your city. Atlanta folks are lucky because they will be here for the AJC Decatur Book Festival August 30-September 2! They will also visit New Orleans August 3 and Franklin, TN October 11-13. Not coming to your town? Check out their cool
mobile app
to find your perfect beach anywhere in the country or to learn more about the chic vibe that is South Walton.
Disclosure: I was not compensated for this post nor was I asked to write it. I just wanted you to know about it! Oh, and I did win the painting as part of a giveaway from the BlogHER party.