This is THE money saving app you need. It's called Dosh, It just launched this month and I'm obsessed with it! Dosh is a cash back app that offers discounts to some of the biggest and best retailers (think Target, Macy's, Nordstrom) and gives you cash back directly to your Dosh Wallet. No coupons. No codes. No scanning bar codes at the register that don't want to scan because the Wi-Fi is weak and everyone in line behind you is glaring at you. (Is that just me?) 
What is this money saving app and why should you download it?
Dosh is the newest money saving app that can put money right back into your pocket. The smart people who created this app used the newest technology to eliminate wasted money spent on advertising and gives it back to you. I love that it's a set-it-and-forget-it type of app. Once your card is connected, there's not much else you need to do. Though if you want to get cash back for online purchases and travel bookings, you have to launch that site from the app. Since Dosh also offers special additional deals like free shipping or a certain percentage off, you'll want to shop through the app anyway.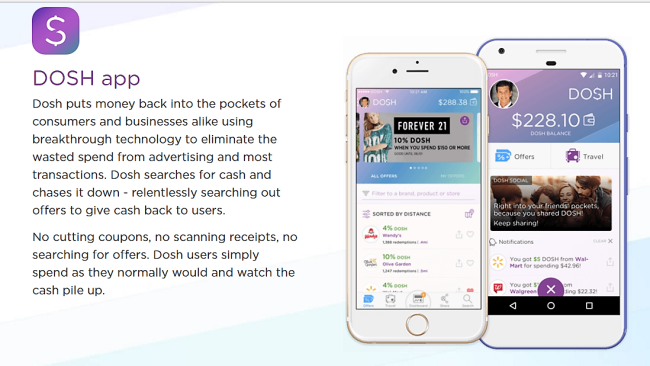 Dosh gives you cash back at varying amounts. From just over 1% to nearly 40%, the amount can be pretty impressive. I see especially big benefits to those who travel. I checked on hotels in South Florida, since that is my next destination, and there were hotels that offered over $100 cash back PER NIGHT. The 4 star Eden Roc Miami Beach is going for $306/night. If it's booked through the app, you will get $132 cash back for each night you stay. South Beach anyone?
What you won't need for this money saving app:
No UPC scanning

No receipt photos

No mail-in rebates

No promo codes

No in-store fumbling
How to use Dosh?
Download the Dosh app. (Full disclosure: I will get a referral fee if you click through my link.)

Link your credit and debit cards to the Dosh app.




Use those cards where offers are available or book travel with Dosh

Get cash back, Auto-magically. 

A money saving app that gives cash back without any hassle. Finally.
How does Dosh really work?
Ok so I don't know the nitty gritty behind this money saving app, but I know it works. I tried it myself. Basically, Dosh searches for cash and chases it down. No cutting coupons, no scanning receipts, no searching for offers. Dosh users simply spend as they normally would and watch the cash pile up. 
But wait, there's more: Get cash for booking travel!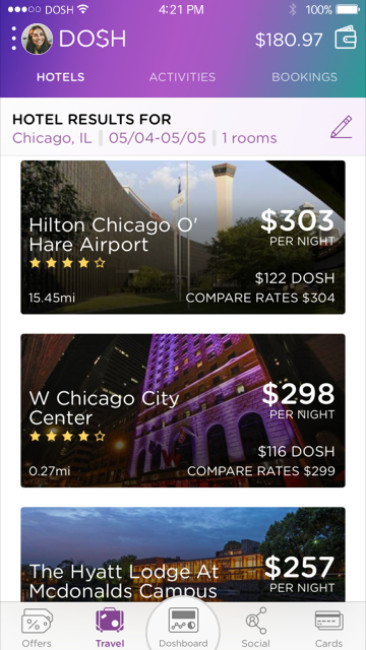 This money saving app is not just about shopping rewards. I mean that's cool and all, but I love the travel benefits Dosh offers. Dosh gets users the best possible price on hotel bookings, car rentals and touristy activities, and still gives you substantial cash back. Work, shop, travel, play, and they'll find you cash. Dosh gives the typical profit hotels and online travel sites make back to you.
You can book travel through Dosh at amazing prices plus you get incredible cash back. If you travel for business, you'll love getting cash when you book hotels for work. (You get the cash and work pays the bill. Nice.)  If you haven't planned your next
family vacation,
do it through the Dosh app and get money back!
Want more information? Follow Dosh all over social media: