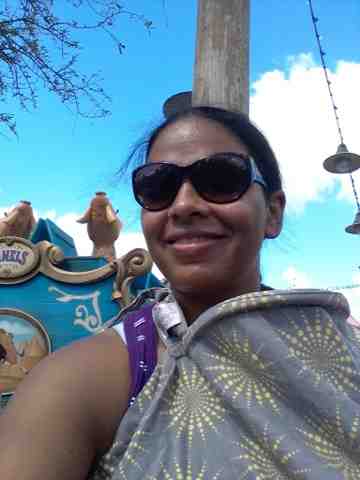 Me, breastfeeding at Disney
Moms, stop it. Stop it right now. Stop believing all the lies, half truths and lies-by-omission that you tell yourself everyday. You're smart. Don't buy into the hype. I'm writing this post to call us out. (Yes, I have been guilty of doling out these little white lies too.). Here are the top 5 lies us moms MUST stop telling ourselves right now:
1. I just had a baby. If your baby is over 6 months old, you did not "just" have a baby. Stop using that as an excuse to explain your weight gain/lack of sex drive/energy level/lateness/etc.
2. I can't afford another baby. Get ready for it: Yes you can. You just don't want one bad enough. Or your husband doesn't. Or you don't want to sacrifice your lifestyle, or that of your other kid(s). Or the thought of all the changes is just too overwhelming. And that's A-OK! Really! It's ok not to have another baby, but just stop blaming it on money.
3. I'm so much better than you because I breastfed for xx months. I'm calling bs on myself. I've caught myself judging a mom formula feeding a newborn while I'm trying to keep my gut from showing and wincing in pain trying to breastfeed. Surely, I'm the better mom, right? NOPE. No one is better or worse. (But she sure did look more put together.) Just stay in your lane and do what's best for you. And buy lots of nursing tanks.
4. The Mommy Wars don't exist. Of course they do! Birds of a feather and all that jazz. But we don't have to perpetuate it to make the chasm larger. Own whatever choice you've made and don't worry about others. Being a mom is hard. Stop making it harder.
5. Child birth was beautiful. Oh no you didn't! Stop romanticizing the painful, bloody, gory mess that is child birth. Stop giving me the "instagramed" version of your birth story. Stop making women who haven't yet been through this rite of passage feel like its supposed to be a zen moment. The baby is beautiful. Getting him or her out is definitely not.
What do you think about these lies? Which ones do you tell?