My friends at Hood sent me some coupons for Hood milk so I could taste their product for myself. My opinions weren't swayed but more than one cookie was dunked in the process of this review.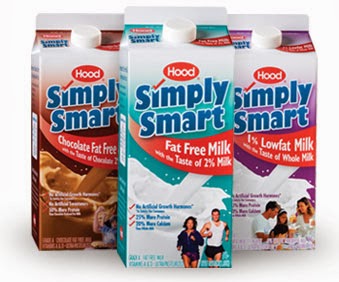 Hood, one of the largest branded dairy operators in the US has been around since 1846. But it took until 2013 for me to try them and I'm so glad I did. Hood makes many dairy products you have heard of including Hood milk, Heluva Good!, LACTAID, BAILEYS COFFEE CREAMERS, HERSHEY'S Milk, Blue Diamond Almond Breeze and Hood Simply Smart Milk. I tried the Fat-free Simply Smart Milk and found it richer, creamier and with more protein than the store brands I usually buy. It is more expensive but look for a few sales and stock up! It has a rather lengthy refrigerator "shelf" life. And it tastes good!
Here are some milk myths that were debunked by a recent survey by Hood:
Myth #1
— Everyone knows that milk is a better source of protein than an egg.
Truth #1
— Many women are uninformed about the amount of protein contained in milk.
The survey found that 97% of respondents were unaware that a glass of Simply Smart Milk contains more protein than an egg – it has 10-11 grams, depending on the type of Simply Smart Milk. The Fat Free and 1% Low Fat milks offer 25% more protein and 20% more calcium than regular whole milk and the Simply Smart Chocolate Fat Free Milk has 37% more protein than regular reduced fat chocolate milk.
Myth #2
—Milk is no longer one of the most popular daily breakfast components.
Truth #2
—Milk still makes an appearance at the breakfast table for 73% of women!
Whether it's a delicious bowl of cereal with milk, a creamy glass of milk on the side, or used in a recipe, milk remains a top choice for women at breakfast.
Simply Smart Milk
is a good option to start the day with because it's nutritious and delicious, available in
Fat Free
,
1% Low Fat
, and
Chocolate Fat Free
.
Myth #3
— Consumers prefer to dunk cookies and cream cookies in their milk.
Truth #3
— Chocolate chip cookies are still a favorite among milk drinkers who dunk!
Simply Smart Milk found that 43% of women still pick chocolate chip cookies as their favorite treat to dunk in milk. Chocolate Chip Cookies were the clear winner, followed by Cookies & Cream Cookies with 14% dunking, and Oatmeal Raisin Cookies with 9.14% dunking. Do you dunk? If so, what do you dunk? Inquiring minds want to know!
Is milk just something you force on your kids at dinner or do you enjoy it as well? How does milk make an appearance in your day? I'm from Wisconsin so you know milk is on my menu…one way or another.