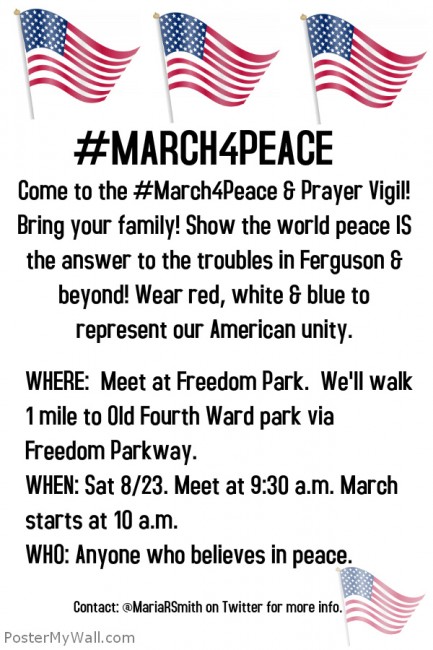 I've been watching the news lately and thinking the mom marching in Ferguson, MO is no different from me.  The boy who died in the street is no different from my son.  The dad fighting to protect his family from injustice is no different from my husband. And I started thinking I wanted to do something to show my community that we are more alike than we are different.  So today I'm announcing the Atlanta #March4Peace and prayer vigil.
THIS SATURDAY August 23 at 9:30 am.
Come to the #March4Peace if you think praying for peace will help all involved.  Come to the #March4Peace if you want to be a part of a solution and not just talk about a problem. Come to the #March4Peace if you want to teach your kids that groups of people can come together from all walks of life for a common goal.  Come to the #March4Peace if you want to show your support to all  the people of Ferguson, MO and to the family of Michael Brown.
The #March4Peace is not a political event.  It is not a "black" thing or a "white" thing. It is an event for all families to come together to offer prayers and support, and to show our solidarity for the families in the troubled community of Ferguson, MO.  And we'll have fun doing it!
I know there is soccer practice and ballet rehearsals and birthday parties and about a thousand other things you can do with 2 hours on a Saturday morning.  But what if you added this in, too?  What if you took the time to do something positive with and for your children?  What if you came to the #March4Peace and became part of a larger solution?
If not you, who?  
If not now, when?
Logistics
Where:
Meet at the corner of Moreland and Druid Place in Atlanta's
Freedom Park
.  Parking should be available on Druid Place.  We will then walk the 1.2 miles to Old Fourth Ward park via the pedestrian-friendly Freedom Parkway trail.
When:
Sat 8/23. meet at 
9:30
a. March starts at 10a.
Who: Moms and Dads who want to advocate for peace. This includes all families, of all races, creeds, religions, and socio- economic circumstances.
Families can bring a picnic lunch and enjoy the great playground and "Sprayground" at
Old Fourth Ward park
after the #March4Peace to further extend the feelings of peace. We will have cold Popsicles and water at the finish! Please wear red, white, and blue and to carry American flags. Let's show that there is not a Black America and a White America but just the United States of America!
#March4Peace Objectives:
1. To pray for peace.
2. To show solidarity for all the people of Ferguson, MO
3. To show support for the family of slain teenager Michael Brown
4. To be a symbol of unity as we are all Americans
Will you come?  
If not, will you share this information?  
And if you can't do either,
will you pray?