Disclosure: I received free Michael Angelo's products to review for this post. Not having to pay for them didn't sway my opinions.
I bet you didn't you know October is National Italian Heritage month. Furthermore, I bet you didn't know I come from an Italian-American family. Yup. Don't let my curly hair, brown skin, and innocuous married surname fool you. My maiden name is Galati. My grandfather came over to America from the mountains of Palermo in Sicily when he was 18. The Galati side of my family had two characteristics that were memorable to me growing up. One, they feuded. Like decades long, no-speaka-his-name, type feuds. And secondly, they ate.
I remember going over to my great Aunt Mary's house one summer when I was a little girl and the food was amazing. Since my father's parents died before I was born, Aunt Mary was the only relative I remember that came from "the Old World". I remember her as being tiny and cute but a spitfire for sure. And boy could she cook. Some people think of a summer cookout as a good time for burgers and brats, but not the Galatis. Oh the pasta and "gravy" (marinara sauce)! Oh the cannolis! Oh the fresh baked bread! Maybe time has amplified that memory, but I have a vision of walking into that small dining room and being in Italian food heaven. Yum!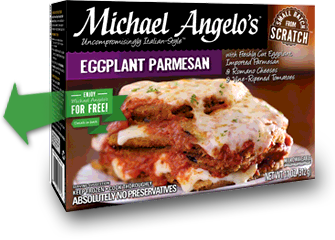 This memory is being rehashed in my mind because the fine people at Michael Angelo's asked me to review their frozen Italian meals. I thought, sure, I'm not a food snob. They will probably taste fine. And then I ate one. And it wasn't fine. It was DELICIOUS. The Eggplant Parmesan was so good and didn't taste like frozen food at all. I bet if I transferred it into one of my dishes, no one would know it came from the freezer. (Not that I'd EVER do that…) Since Michael Angelo's is a family-run company with a 30 year heritage of family-style Italian cooking, it makes sense that the entrees all taste so good. They use imported cheeses, perfectly ripe tomatoes, and cook each dish in small batches so none of the flavor gets lost. They take their time and do things right. Just like the Italian cooks in my family. If you haven't tried them yet, I encourage you to do so. Here's a coupon to help you save some money.
So in honor of Italian American Heritage Month, Michael Angelo's, and my Galati relatives: