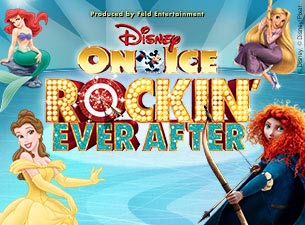 I had the opportunity to attend the newest Disney on Ice show, Rockin' Ever After, at Philips Arena last night and it was SO good. It was even good enough to keep my 4 kids out until 9:30 at night! For a rather regimented organized mom like me that says a lot. The kids loved the break in our typical routine and were genuinely overjoyed to be at this show. I tend to have some jaded kids so seeing real excitement was great!

Disney on Ice Rockin' Ever After features both new and old more established Disney princesses including Ariel (The Little Mermaid), Rapunzel (Tangled), Belle (Beauty and the Beast) and, in her Disney on Ice debut, Merida from the new Disney/Pixar movie Brave. The nice thing about this show is that except for the intermission, it was action-packed and constantly changing with new characters, story lines, and music. This was extremely important as my kids (all under 6 remember) did not get bored, antsy, or start fighting with a sibling even once. And the songs were just plain fun! Sure my daughter sang along to "Under the Sea" but she also picked up the words to "Girls Just Want To Have Fun" too. Seeing my 5 year old sing a Cyndy Lauper song was just priceless!
Aside from the music, I really liked the fabulous costumes and the stunts were pretty cool too. When "Ariel" used the ribbons to perform a Cirque du Soliel'esque routine, I think the whole arena was mesmerized. Actually, all of the skating/dancing was really well done. The kids loved seeing the princesses (and their princes) and my husband and I liked bopping along to the upbeat music. Look, it is hard to bring 4 kids out in public but it is worth it to create the family memory we made last night.
Rockin' Ever After is at Philips Arena through October 14. Want to get tickets on the cheap? Anyone who uses the code 11alive over the phone, at the box office, or online can get tickets to the Saturday 11 A.M. show for only $11! (These tickets are good only for levels 4-6.)