This easy slow cooker french toast casserole recipe has been a Godsend to me. I created it from a variety of recipes I found online, advice from my sister, and my own mistakes findings. This used to be a dish I only made on Christmas morning. Now I can actually put it in the rotation as my breakfast for dinner selection. It's easy, cheap, and the whole family loves it!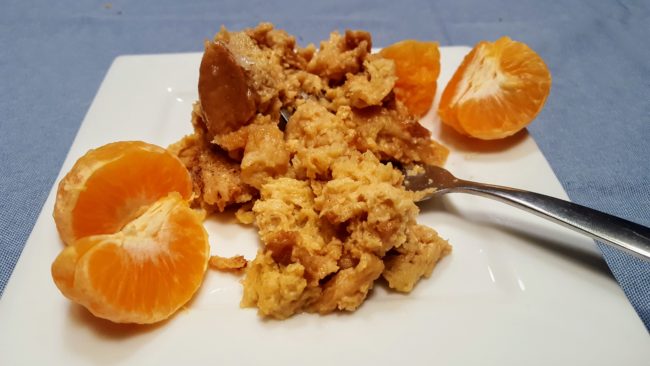 I made this version of easy slow cooker french toast casserole using Bakerly brioche bread I was sent to try out. This bread is non-GMO and completely free of preservatives, artificial coloring, artificial flavoring, high fructose corn syrup and trans fat. It is made by real French bakers (in France!) and it tastes delicious. You can really taste the top quality ingredients and now it's available in many local US grocery stores. (Also try the individually packed crepes for an easy snack or lunch time entree.)

If you don't have any Bakerly bread on hand, no worries. Use whatever you have. I have been known to use leftover hotdog and hamburger buns, the ends of bread no one wants to eat, and even the odd cinnamon rolls that didn't get eaten at breakfast. You're cubing the bread so don't stress out about it.
Make It Overnight!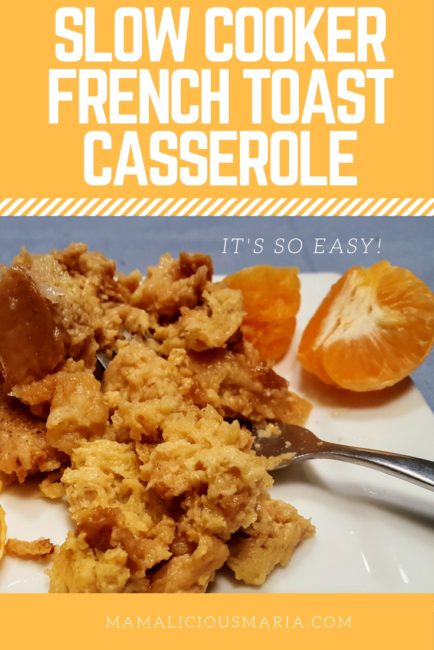 This easy slow cooker french toast casserole is a great dish to make overnight. You will wake up on a crisp fall morning with the most delicious smell coming from the kitchen! Want to be fancy? Add in raisins, cinnamon apples, chocolate chips, or nuts if there are no allergies in your family. The key to this recipe is that you can make it your own. Use what you have in your refrigerator or pantry. This recipe feeds my whole family of 6 with leftovers so it's great for a crowd. And if you do breakfast for dinner, this is the dish you want to make!
Easy Slow Cooker French Toast Casserole
1 1/2 cup milk (whole milk is probably tastier but use what you have)
1/2 cup cream (try flavored coffee creamer for a fun twist)
6 eggs
1 loaf bread (or about 6 cups cubed)
1/2 cup syrup
1 tsp vanilla
Dash of cinnamon
Dash of nutmeg
1/4 cup brown sugar
4 tbsp butter
Directions
Cube the bread and add to slow cooker.
Blend eggs, vanilla, milk, cream, syrup, cinnamon and nutmeg in a blender until smooth.
Pour egg mixture over bread.
Add butter in pats over bread. Sprinkle with brown sugar.
Cook on low for 4-6 hours or on high for 2-3 hours.
Serve with additional syrup if you'd like.