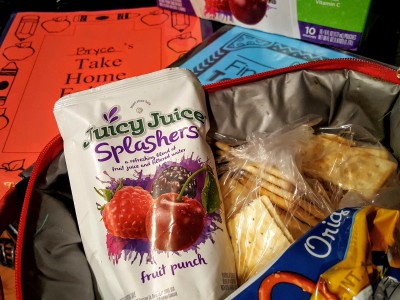 Looking for some lunch box inspiration? Want to send the kids back to school with something besides the same turkey and cheese sandwich that went in almost everyday last year? Or maybe you're looking for something different for your own lunch? I've got something that works for all those scenarios.
Today's lunch box inspiration is brought to you by Juicy Juice. Not only can you throw one of their juice boxes in the lunch bag, but you can use the juice in a delicious recipe too.
By the way, if you haven't tried Juicy Juicy Splashers, you should! It's a no-sugar-added blend of juice and water that is great for thirsty kids.
This recipe makes 8 servings, with 4 small lettuce wraps per serving. It works well for big families like mine or it's great for leftovers too! Try it this year and get your kids back to school in a healthy, delicious way!
Lunch Box Inspiration: Chicken Salad Lettuce Wraps
Ingredients
Juice of 1 lemon
1½ cups plus 2 tablespoons Juicy Juice 100% White Grape Juice
¼ cup extra virgin olive oil
2 teaspoons kosher salt
¾ teaspoon ground black pepper
2 pounds boneless, skinless chicken breasts
¾ cup mayonnaise
¼ teaspoon garlic powder
Dash of hot sauce (optional)
1½ cups halved red grapes
¾ cup chopped celery
¼ cup chopped green onions
¼ cup chopped walnuts (optional; leave out if you have any nut-allergies at home or at school)
32 Boston lettuce leaves (from about 4 medium lettuce heads), leaves separated
Instructions
In medium bowl, whisk together lemon juice, 1½ cups Juicy Juice 100% White Grape Juice, olive oil, 1 teaspoon salt and ½ teaspoon pepper. Place chicken in large zip-top bag; pour juice mixture over chicken. Seal bag and refrigerate 4 hours or up to overnight.
Preheat oven to 400 degrees F. Remove chicken from marinade; discard marinade. Place chicken on rimmed baking pan and bake 25 to 30 minutes or until internal temperature reaches 165 degrees F. Transfer chicken to cutting board and let stand 5 minutes before cutting into ½-inch chunks.
Meanwhile, in large bowl, whisk together mayonnaise, garlic powder, hot sauce (if using) and remaining 2 tablespoons Juicy Juice 100% White Grape Juice, 1 teaspoon salt and ¼ teaspoon pepper. Add grapes, celery, onions, walnuts and chopped chicken to bowl; toss until well combined.
Serve chicken salad mixture with lettuce leaves.