I was recently treated to a complimentary 'Moms Day Away' at Life Time Fitness in Alpharetta, Georgia. It. Was. Heaven. I now want to tell all my mom friends about this fitness center chain! For those looking for a high-end place to work out where families and mom-earned bodies are welcome, this is the place to go!
I may not look like it but I'm pretty much a gym rat. I love a good sweat. I'm pretty athletic and I love being challenged. And I adore doing it in a place that is sparkling clean, high-tech, and luxurious from the front door to the locker room. Even their towels smelled like fields of fresh lavender. Seriously. Check out my moms day away at Life Time.
My Moms Day Away at Life Time Fitness
Look Mom, No Kids!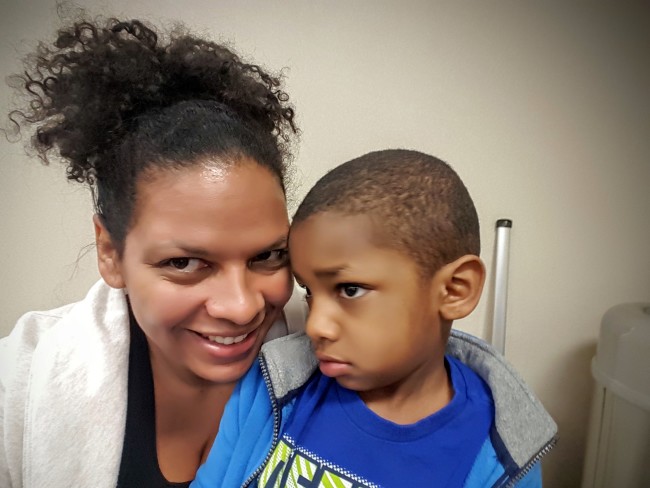 Since Life Time Fitness has an amazing childcare center, I was able to bring my three year old with me. He was a little skeptical at first but didn't want to leave when I came back to get him. With four children, going to a gym with a great childcare facility is a given. I was impressed with the size, thoughtful design, and amenities of the Life Time Fitness childcare center. They have a computer lab, jungle gym, basketball court, and tons of other things to do. And childcare is complimentary for members by the way.
Mmmm…Lunch!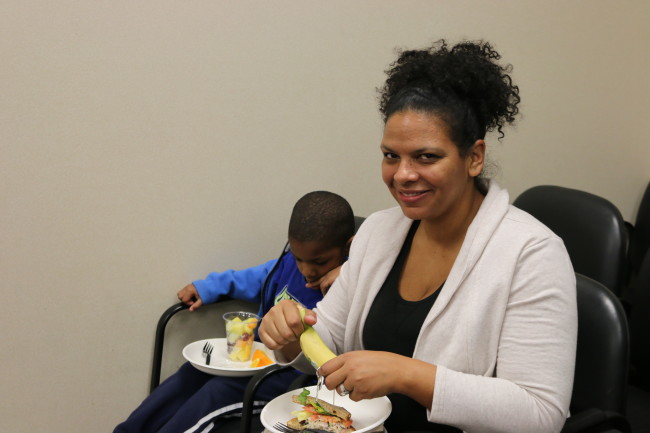 Our lunch was from the Life Cafe inside Life Time Fitness. I was filled with trepidation, thinking that it was going to be green juices or kale or something else I don't eat, but I was totally wrong. The food looked great and tasted even better. I had a chicken salad wrap that I'm sure was organic and free-range and cage-free and all that, but all I know is that it was frickin' delicious. The tag line for Life Cafe is: If it's here, it's healthy. Yes! I'll have another then please! (Wait, it doesn't work like that? Oh.) By the way, the healthy chicken tenders on the kids' menu were a big hit with my very discerning three year old. I love that families don't have to leave the gym to get lunch or dinner. Stay and play!
Oh Yeah…It's a Gym Too.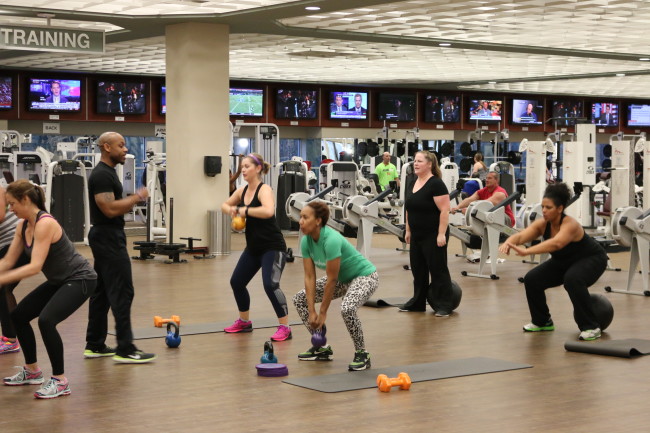 Right. So I wasn't just there to look around, eat, and spa? I need to work out too! Life Time set up a special Barre Class and Bootcamp session for all of us at the Moms Day Away event. I loved both of them! I'm one of those people who get super excited about a good class. I was sore for three days afterward so they were definitely good classes. The stretching and repetitious work using only my body weight in Barre was shockingly hard. And the 20 second interval training during the bootcamp was hard but got my adrenaline pumping. (The booty shaking music and encouragement of the trainer didn't hurt either.) There are so many classes at Life Time, many of them with a unique Life Time spin. I hope to be able to go back to and try their Dance Jam or Zumba classes too.
Life Spa Gave Me Life.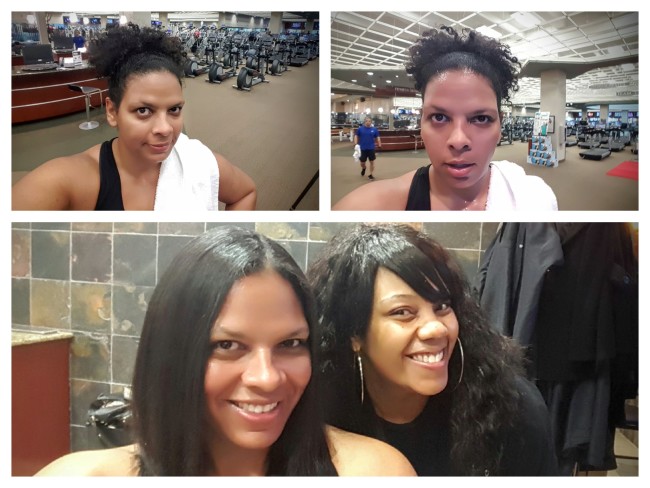 Having a spa inside Life Time Fitness means moms like me can use free childcare to get spa services done too. That's amazing! There are so many times when I'd love a massage or to get my hair done but I just didn't have coverage for my kids. Lifetime has solved that problem. I got to check out the hair salon service and was totally impressed. Not every salon can do a good blow out and not every salon can do one on multi-ethnic hair but Life Spa succeeded on both counts! My blowout was done super quickly because I had a school bus to meet, yet it was done well. The enthusiasm and genuine kindness of the staff was much appreciated too!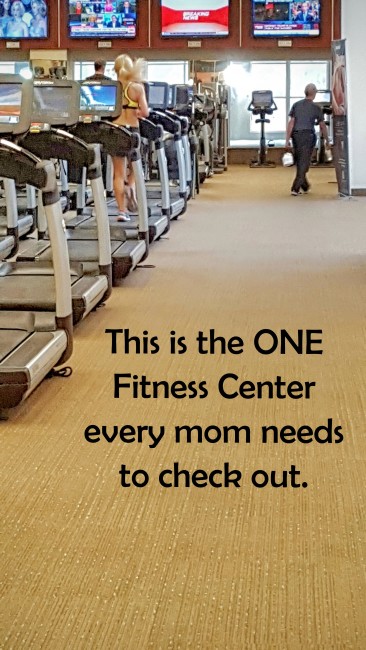 I had a fantastic day at Life Time Fitness and was impressed with this gym at every turn. If you are near one of the 118 Life Time fitness centers around the United States and Canada, I'd suggest you check them out. Most of the fitness centers operate 24 hours a day and offer the best features of gyms, health clubs, family recreation centers, sports clubs and health spas in one place. I need to go back to check out some of the other facilities including this killer pool!