(This is the letter I'm sure I'd write to myself years from now when the diapers and sleepless nights and nursing stages are done. This is the letter I'd read over and over on days like yesterday that are particularly tough.)
Dear New Mom,
I can tell today was a rough day, in a week of rough days, in a month of rough days. You feel overwhelmed and tired and not yourself. You're nursing all the time, while potty training and getting snacks and cleaning the kitchen. You can hear yourself yelling too much and lacking the patience you need to have. The kids won't nap, though that's something you only dream of doing, the house is a mess, and even though it's 6 pm you haven't even thought about dinner. I'm here to tell you, it gets better. Just hold on.
It doesn't seem possible now but those kids will grow up and be able to pour their own darn juice. They will bathe themselves and read their own books and get themselves breakfast in the morning. It gets better, Mom. Just hold on.
You will sleep through the night again. You will have a clean home again. You will wear pre-baby clothes again. You'll actually be able to have a glass of Moscato without having to think about your breastfeeding schedule. There will come a time when leaving the house with all your kids will seem natural and even easy, and you will look back on today and laugh. I promise you that you will laugh.
It is hard being a new mom. Whether this is your first rodeo, your fourth or your fourteenth, people expect you to get the hang of it way before you actually do. You are being pulled in a hundred different directions and feel frazzled most days, overwhelmed the others. It doesn't take much to make you cry. Know that you are not alone. And just hold on.
Focus on getting through today, or maybe just this afternoon, or even just the next 30 minutes. Know that you are a great mom, that your kids love you and know you love them. Keep praying. Keep putting one pedicure-needing foot in front of the other. Keep believing that children, even sticky, tantrum-throwing ones, are blessings from God.
Years from now, in a quiet moment, you will remember the sweet newborn smell and the warmth of a tiny body snuggling against you. You will remember seeing the heart-melting first smiles, and the feel of five little fingers wrapping around your one. And you will wish you savored these days…these hard, stressful, wonderful, crazy days…just a little more. It gets better, and goes by in a blink of an eye. Just hold on.
Love always,
You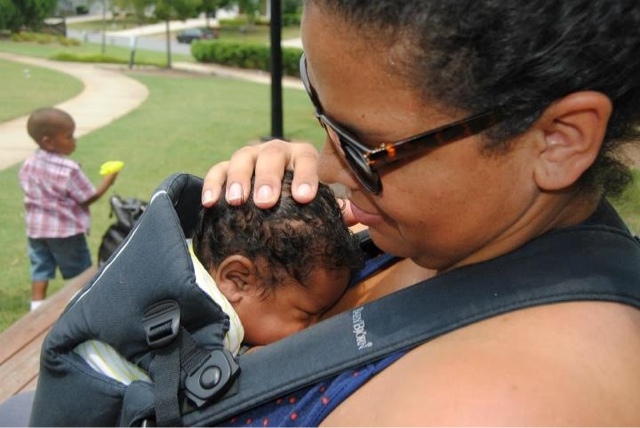 My newest sweet tiny baby and I.