My family recently visited the LEGOLAND Florida resort just outside of Orlando. This was our first time staying at the LEGOLAND Hotel. It was fabulous! I spent some time writing down some secrets to our stay so I could share them with you. I'm hoping to save you time and money!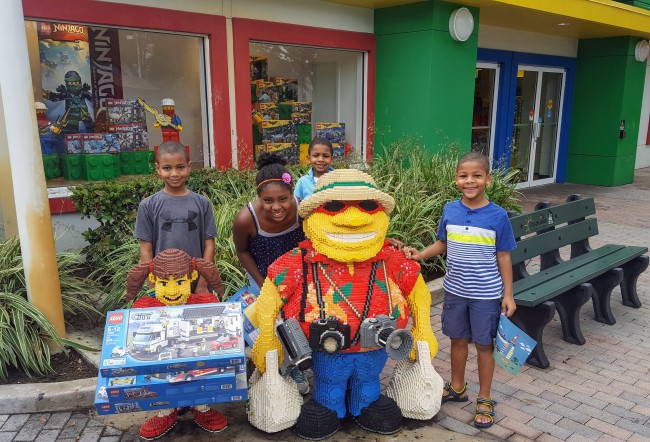 Whether you are staying at a LEGOLAND Florida resort hotel or just heading to the LEGOLAND park or water park, there is fun to be had for everyone. I loved the creativity it sparked in my children and the interaction that was encouraged for the whole family. If you have a trip to LEGOLAND on your family travel to-do list, check out some tips I gleaned from my trips.
9 Things to Know BEFORE Visiting LEGOLAND Florida Resort
 1. Stay at one of the LEGOLAND Florida resort hotels.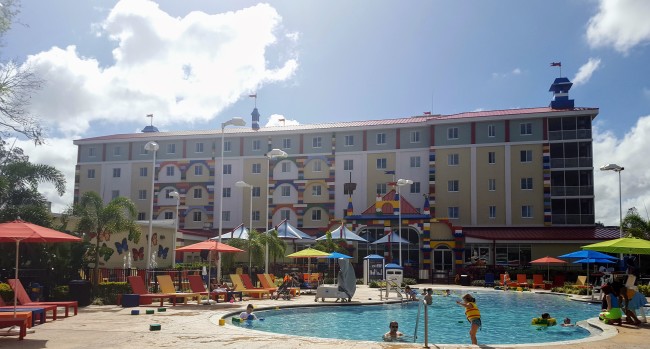 Staying at the LEGOLAND Hotel or the LEGOLAND Beach Hotel allows you to extend the LEGO  fun by infinite degrees. You also get into the park 30 minutes early, a delicious, free hot buffet breakfast, and fun take-home surprises in the room for each child. And the LEGO-themed pool is the perfect-sized place to cool off.
Also, after much anticipation the LEGOLAND Beach Hotel is ready for visitors! It was not open when I visited earlier this Spring but I am excited to go back and check it out. They have spacious beach-themed rooms that sleep up to six! We'll fit in one room!
2. Bring your minifigures to trade.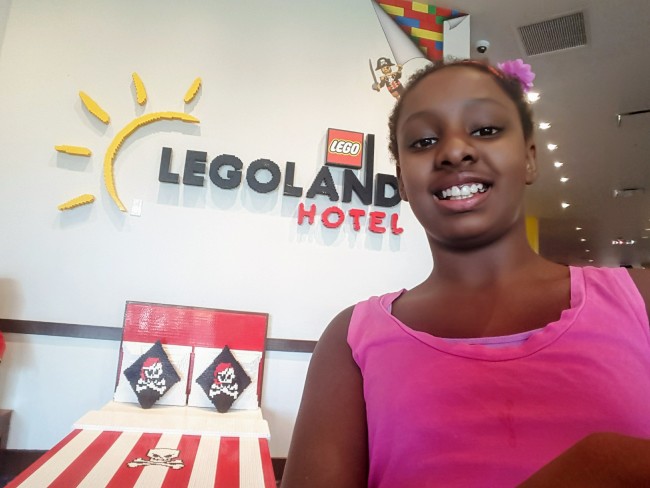 Most families have tons of minifigures somewhere in their house. Make sure each child has one before you come to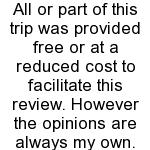 LEGOLAND Florida resort! And then let them trade with any LEGOLAND worker they see either at the hotel or anywhere in the park. You can buy the minifigures there, but why waste your money? Save it for something they will actually take home.
 3. Bring water.
All the times we visited LEGOLAND there were minimal bag checks. So stock up on cold water and small snacks. It's Florida so no matter the time of year, it's probably going to be hot. Be sure to keep yourself hydrated. Soft-sided coolers are OK. I brought enough snacks for my kids to grab through the day and saved a lot on meals!
 4. Attend a FREE Master Builder class.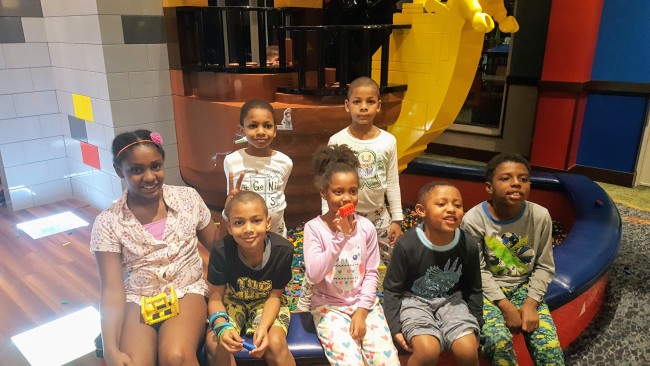 Stop by the kiosks at the LEGOLAND Hotel lobby to sign up for a FREE Master Builder class at the hotel. Space is limited so be sure to sign up as early in the day as you can. You cannot reserve space online. Don't spoil it for your kids, but they will get to keep the item they make! And it's totally OK to have the kids go to the class in their PJ's.
 5. Don't go if it's raining.
I know that you might not have another option, but try not to schedule a visit if rain is predicted for most of the day. If it rains, there are no refunds. They close most rides for safety reasons if lightening is even in the area. Since the park has limited hours, try to get there early in case afternoon showers cause delays.
 6. Save time for just LEGO free play.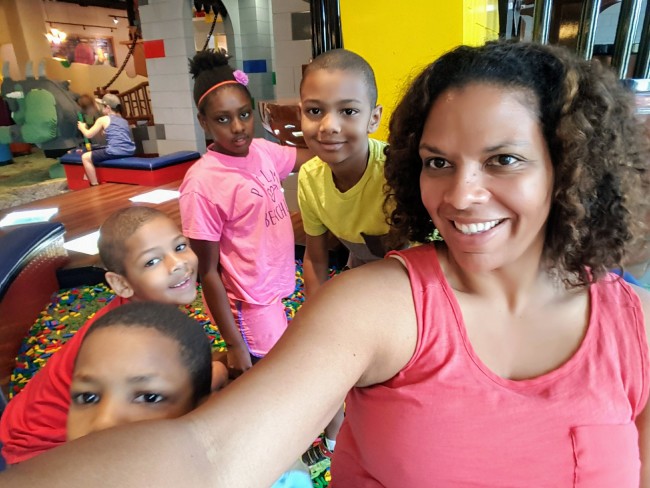 Whether you are spending some downtime cooling off at the LEGOLAND Florida resort hotel, in the Duplo play area for toddlers in the park, or just sitting on the grass overlooking the lake, this is a place not to rush. Free play and creativity is celebrated here!
 7. Buy parking voucher online to save money.
One of the best things about LEOGLAND Florida Resort is that it's not crazy huge. It doesn't overwhelm you. Parking is very close, about 5 minute walk to the main entrance. If needed you can go back to car easily. Parking costs $17 at the gate. Book online to save $2!
Also know that while LEGOLAND Florida resort is near Orlando, it is NOT in Orlando. It is about 45 to 60 minutes away. It took us one hour to drive there from the Embassy Suites Lake Buena Vista.  There is also a shuttle from the Orlando for $5/person.
 8. Eat at the Bricks Family restaurant.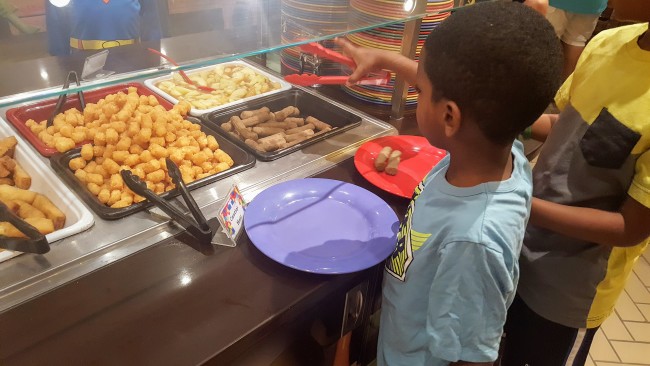 Go for dinner at the LEGOLAND Florida restaurant. They have a really impressive buffet with tons of options that both parents and mom and dad will love. Plus, you can come as you are. Heading to the nightly pajama party in the lobby? Eat dinner in your PJ's! You do not have to be a hotel guest to eat at the restaurant or visit the hotel.
 9. Start at the back of the park.
When that rope drops (metaphorically speaking) don't get caught up in the lines for the rides at the front of the park. Don't stop to ogle the amazing LEGO constructed cities in MINILAND. Just keep going and ride things like Ford Driving School and Lost Kingdom Adventure (one of the biggest roller coasters in the park). There are so many new additions in the last year making it an even better family vacation!