Leftover Chicken Soup is what I serve when I don't know what to serve my family for dinner. I'd call it something better, more appetizing, but sometimes it is just better to call a thing a thing. And Leftover Chicken Soup is just that. I use whatever leftovers I have in the refrigerator, add my favorite Progresso Chicken soup (Progresso Light Chicken Noodle works well) and throw it all in a big pot or the slow cooker. It really is the world's easiest recipe.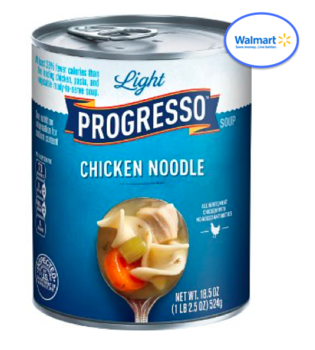 I use Progresso Soup as a base because it does all the work for me. It includes quality ingredients like antibiotic free, all white meat chicken so I can feel good about what I'm serving my family. I have enough "mommy guilt" to last a lifetime, thank you very much! Progresso Soup is something you can find anywhere. I almost always find it on sale at Wal-Mart (along with everything else!)
By the way, yes, I know I could use a chicken broth from the store (never have it on hand) or I have heard people actually make their OWN chicken broth (umm…ain't nobody got time for that). So since I want to make soup…I start with soup.
My latest Leftover Chicken Soup creation included throwing in a bag of frozen vegetables along with some extra diced chicken. I also add a pinch of seasonings just so I can say I "seasoned" it. This recipe works well with leftover rotisserie chicken or when you have only 3 wings left after Sunday's game or if there is just 1 lonely breast that didn't get eaten when you made whatever chicken dish you always make earlier in the week. Got rice? Throw that in too. Sausage? Why not? Any and every kind of vegetable? As long as you like to eat it…throw it in the pot.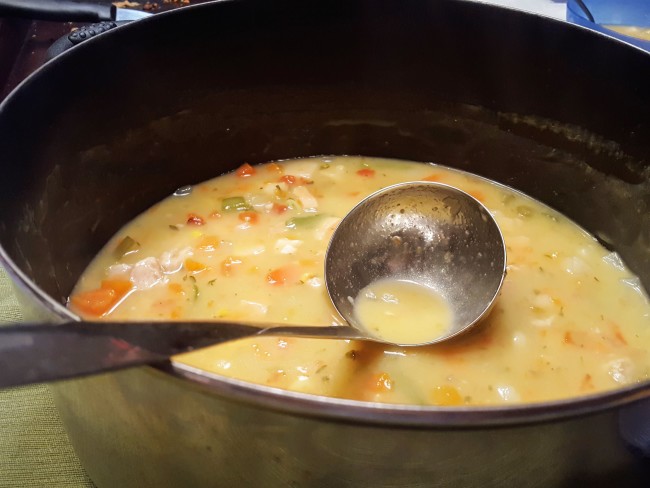 The recipe for Leftover Chicken Soup looks ridiculously easy but you will be surprised at how much your family loves it. And you can totally pretend you made your own broth, harvested the vegetables from a community garden down the street, and diced up some of the freshest chicken the butcher had at the market this morning. Go ahead. I won't tell if you don't.
Leftover Chicken Soup
Ingredients
Leftover chicken (or whatever meat you want to put in)…or not. Amount? How ever much you have.
Leftover vegetables (or frozen ones…or fresh ones)…or not. Amount? How ever much you want to put in.
3 cans of your favorite Progresso Soup (for a family of 4)
Directions
Put all the ingredients in a pot or slow cooker.
Cook for as long as you have or until the soup is warm.
Serve with warm crusty bread.
Don't tell anyone how easy it was.