Kids Eat Free…I love those three words!  And this Halloween weekend there are a lot of them. I put together a round up of the deals I've found including ones where kids eat free or discounted.  They range from fast food to semi-formal, from sweets to a full meal.  All treats…no tricks!
Be sure to call your local restaurant to see if they are participating before you go though and read the fine print on all the offers. Know of some more deals?  Leave me a comment and let me know!  Looking for something else happening on Halloween? Check out my Fall activities guide to find everything spooky and scary to nice and friendly.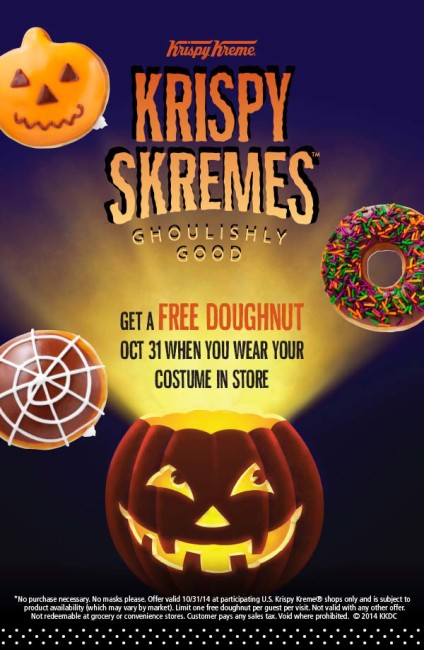 Krispy Kreme: Anyone in costume gets a free doughnut. One free doughnut per person per visit. October 31, 2014 only.
The Bishop: Boo at the Bishop (in Avondale Estates) will include cookie decorating and a downhome chili bar with all the fixings. October 31, 2014 4-6 p.m.
Chipolte: Feel like a "Boo-rito"? While it's not free, anyone in costume from 5 p.m. until close can get a burrito, bowl, salad, or taco order for just $3. Proceeds, up to $1 million, will go to benefit the Chipolte Cultivate Foundation.

Hard Rock Cafe Atlanta: This Sunday, November 2, Hard Rock Cafe Atlanta is rolling out the red carpet for the city's youngest rock stars for a special "Does Your Child Look Like a Rock Star?" costume contest featuring live music from the Gwinnett School of Rock. From 3 to 6 p.m., mini-rockers will compete for a chance to win a gift card or birthday party for eight of their friends at Hard Rock. All kids (dressed up or not) get a free meal with purchase of an adult meal. November 2, 2014 only.
The Melting Pot: Starting at 2:00 PM on Saturday, November 1, join all Atlanta-area restaurants for a special "Fon-BOO Bash" and enjoy a deliciously discounted three-course meal of fall fondue favorites for just $25* for adults and $15 for little trick-or-treaters! Kids can bring in their trick-or-treat stash to make their own potion of chocolate fondue using Halloween treats!
Willy's Mexican Grill: All weekend long, kids in costume (12 and under) eat free at Willy's with the purchase of an adult meal. October 31-November 2, 2014.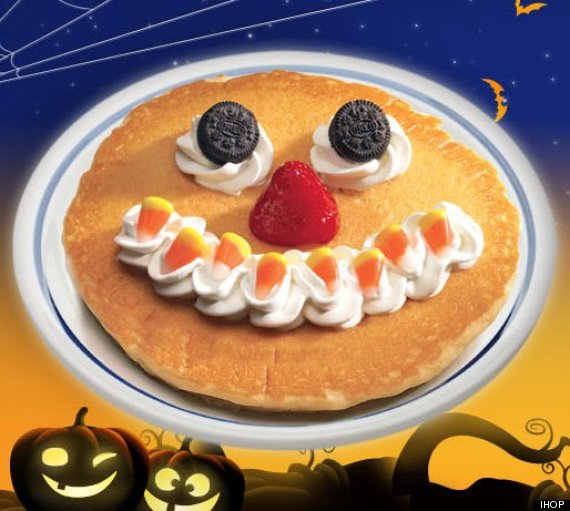 IHOP: Kids can get a free scary face pancake from 7 a.m. to 10 p.m on October 31st (must be 12-and-under). One pancake per child. (IHOP.com does not say there is a limit to how many children at one table can receive free pancakes so bring the whole gang!) October 31, 2014 only.
Sbarro: Plan on doing some shopping today?  Head to a mall with a Sbarro in it for a free slice! Kids in costume get one free slice (cheese or pepperoni) with the purchase of an entree. October 31, 2014.

Outback Steakhouse: Kids 10 and under eat FREE at Outback Steakhouse with an adult entree purchase. There is a max of two free meals per table. October 31, 2014.
Arby's: This one is for everyone…all you bacon lovers out there!  Just say "Trick or Meat" when placing your order on October 31, 2014 and you get free bacon added to your entree.