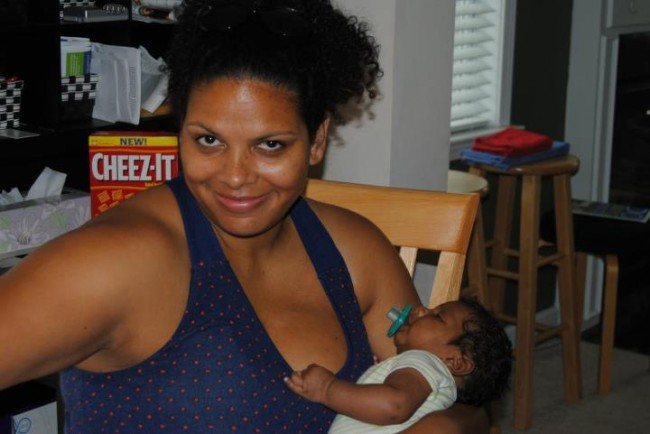 Photo: Yolanda Christopher, yourunexpectedbeauty.com
An alternate title for this post could be "How to do the impossible" because it is really darn near impossible for a new mom to keep her house spotless. Heck, it is tough for any mom to keep her house clean. That said, there are some tips and tricks I learned along the way to keep my home "presentable" during the crazy, sleep-deprived newborn period, especially if you have other kids to contend with.
Look for dual-action products. They will save you time and money. I really like Palmolive Fresh Sponge. I was sent some for review and it smells great. With a new baby there's usually bottles, breast pumps, or other items that are not dishwasher safe so have a dish soap that works well, smells good, AND keeps your sponge for smelling gross is great.
Set your bar a little lower. Or a lot lower. I found that if I just picked up the toys, put the dishes away, and tried to stay on top of the laundry I was doing pretty well. The months following the birth of a baby are not ones to worry about your base boards or polishing your floors. And I have learned the value of paper plates. I know they aren't great for the environment and add an extra expense, but they make clean up so darn easy!
Be sure to clean up the crumbs. Nothing brings ants (and other really gross bugs) into your house like crumbs from kids. And with a new baby you don't want to have to worry about bugs. I like the Swiffer for keeping the floors clean. It picks up crumbs and can clean up the spills and splashes my big kids seem to make at every meal. Plus, it's easy and I can do it one-handed (as opposed to a broom and dustpan or mop and bucket). I was sent the new Swiffer WetJet and it works really well on my hardwood floors. It also dries really quickly which is a bonus because I can't keep my kids off the floor for very long.
For goodness sake, ask for help! Even if you don't have family around (like me) friends and neighbors are usually great when they know what you need. Don't want someone else folding your skivvies? Why not ask them to hold the baby for 30 minutes while you get some stuff done?
Find a product you like and stick with it. My new favorite product is the Mr. Clean Magic Eraser. My kids like to color on the walls, splash grape juice on the walls, and leave lots of little fingerprints all over the house. The magic eraser cleans them up really quickly and nearly effortlessly. My two year old recently used a crayon on the walls leading upstairs right before we had company coming over. The magic eraser wiped it off like it was…an eraser.
The bottom line is that babies are only little once, and while it's hard to stop being the perfectionist you usually are, cut yourself some slack. Do the best you can with whatever time you can find. The kids will grow up and you will have a nice, clean, quiet home in about 18 years. (Or so I'm told.)
Disclosure: I received some products for review from Proctor & Gamble and Colgate (Palmolive). I was not compensated for this post, though and even if I was, the opinions are 100% my own.