I had a recent case of mommy guilt that I just had to share. Most times those guilt pangs are mostly in my head and outsiders can tell me to let go of whatever I'm worrying about. But today was different. You see yesterday was my baby's first birthday. And I did nothing. [insert gasp]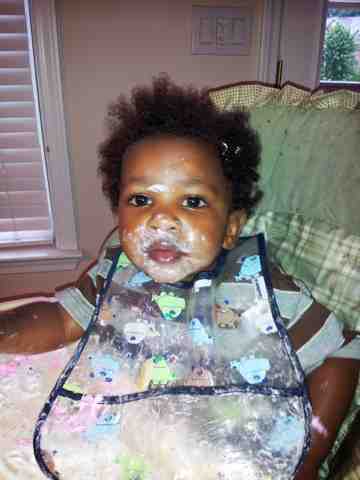 Now it's not like we didn't sing to him or call him birthday boy. But I didn't plan a party. I didn't decorate. There were no balloons. No presents. No special birthday shirt. My oldest had her ballet recital that night so we didn't even have a cake. It was a long week and I figured we'd give him a cupcake the next day and that would be it. "He is only 1," I rationalized. "He doesn't know any better," I told myself. "Life is so crazy I just can't take the time to plan something," I said in my head. "If we had family here it would be different," I surmised. But then my Mommy Guilt, helped along by my older kids, kicked in.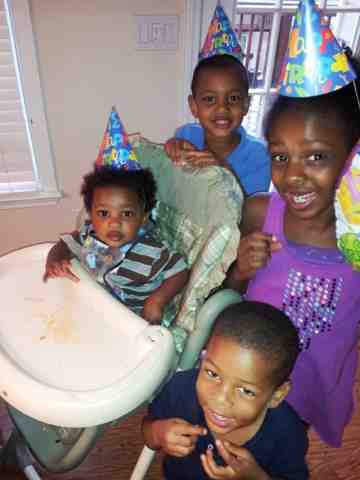 "Drew needs a cake, Mom!" Well..they're right! So we stopped by Publix after church. "What about presents?" A Target run ensued. "Mom, we need party hats!" Yes, kids. We do need party hats! A Dollar Store trip gave us birthday plates, cups, decorations and the prerequisite party hats. After a spaghetti and turkey meatball dinner (his favorite), we had ice cream cake, sang happy birthday, opened presents, took pictures and had a fun family birthday celebration. It cost very little and we all have memories to hold onto forever.
Mommy guilt, stoked by my kids, sent me to the stores, but it wasn't about the stuff. It was about celebrating a special day with our whole family. Even though life can get crazy with four kids, I need to remember to savor these sweet moments and not let them pass just because it's hard. I won't ever get his first birthday back. I'm so glad we took the time and effort to make it special. And now my mommy guilt can kick in about something else…