Excited to announce that @beEverywhere will be sponsoring @MariaRSmith to attend the @TypeAParent conf. as a #HeartofHaiti ambassador!
— HEART of HAITI (@HEARTofHAITI) July 16, 2014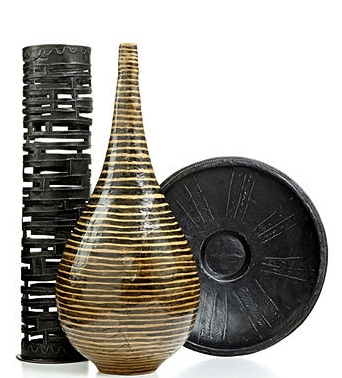 Heart of Haiti products are all handmade.
I am feeling really grateful right now. I was selected by the representatives at Everywhere, an Atlanta-based digital marketing agency, to represent the Heart of Haiti collection at the Type-A Parent conference this Fall. Obviously, it's always nice to win anything, and in this case a ticket to one of the hottest blogging conferences and a hotel stay at the conference hotel, the Grand Hyatt Buckhead, are certainly great prizes. But this ambassadorship is not about me…it's about telling YOU about the great work Heart of Haiti is doing.
Heart of Haiti is a collection of products all handmade by amazing artisans of Haiti and sold at select Macy's and on macys.com. Using primarily recycled materials, the collection includes beautiful items for the home. Quilts, jewelry, vases, picture frames, candle holders, and more are included. Each item comes with an individual hangtag designed to connect cultures through business, art and understanding.
The sales of Heart of Haiti products at Macy's put real, sustainable income into the hands of the artisans who create them, changing their lives in remarkable ways. These artists are able to become entrepreneurs and business owners. They are able to take care of their families, to educate their children, to pull themselves out of the clutches of poverty, because of this program.
Heart of Haiti
products are available exclusively at select Macy's (25 stores including 5 flagships) and on
macys.com
through a unique partnership with Fair Winds Trading and The Clinton Foundation. Heart of Haiti is built upon the principle of trade instead of aid. The sales of these works put real, sustainable income into the hands of the artisans who create them, changing their lives in remarkable ways. These people don't want a hand out…they want a hand up. I'm beyond thrilled to be a part, however tiny, of promoting this fantastic collection.
Please follow
@HeartofHaiti
on Twitter and like them on
Facebook
. They are being the change they want to see in the world. I'm happy to tag along.
Disclosure: I will receive a conference pass to Type A blogging conference and hotel accommodations at the Grand Hyatt Buckhead as a Heart of Haiti Ambassador. Truth is, I'd tell you about them anyway. But I love how they are giving me a hand up too.