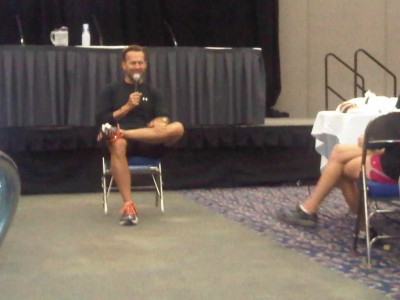 I am a huge Biggest Loser fan so I was super excited to get in invite to the BlogHer breakfast with star trainer Bob Harper. It was especially fun since I'm here on behalf of a EmpowHER (http://www.EmpowHER.com) a health and wellness website for women. They are all about helping women achieve their goals (weight loss or otherwise).
Obviously I'm not a huge workout person but I am trying to get back in pre-baby shape (or at least pre-baby jeans) so I was hoping to get some information from Bob. And I did! I even got to ask him a question! I asked him when should you just be happy…when is your body good enough? His answer was so good! He said (paraphrasing): "After having a baby, there comes a time when you should redefine your expectations for yourself. Of course you should workout and eat healthier but maybe you won't look exactly like you did pre-baby. Be happy in the process." Oh and said I look great. Swoon.
(Sorry the photo is not the best…it was so excited to be so close to him)!