I remember the first time he hit me. It was an open-handed slap to my left cheek that hit me with such force it made my ears ring. I remember stumbling backwards, holding my stinging face, shocked that a man I thought I loved had struck me with such rage. But that blow wasn't the first sign of abuse. Sadly, it wasn't the last either.
The domestic abuse I endured at the hands of a college boyfriend started with a "playful" push, a just-a-bit-too-rough grab to my upper arm, an insult in front of his friends, and his demand for access to whatever little money my college accounts had in them. It progressed, following that slap, to closed fists that swelled my lips and left bruises I learned to explain away. I was a Division I college basketball player. I was in the Honors College. I was strong and smart and had lots of friends. I was also a victim of domestic abuse.
I had no idea at the time that domestic violence affects one in four women in their lifetime. (That's more women than breast cancer, ovarian cancer and lung cancer combined by the way.) I felt alone and lonely and stupid for "letting" this happen to me. I felt like if only I could say the right things….do the right things…be the right kind of person…I could make it stop. I was wrong.
Most people think only of physical abuse when they consider domestic violence but there are so many insidious ways abuse can occur. For me it started with verbal abuse and progressed to physical and financial abuse. When MomSelect and AllState contacted me with the opportunity to write about AllStates's Purple Purse project to bring attention to the financial part of abuse, they had no idea about my personal story. I wrote about the Purple Purse project in the past but didn't feel comfortable enough to tell my personal story too. Now, though I'm scared about revealing so much, I think my personal story could help another woman. I also take comfort in other friends who have revealed their personal stories, like the powerful one Krystyn from Really, Are You Serious shared recently. I, like in 98 percent of all cases of domestic violence, was a victim of financial abuse as well as physical abuse too. Luckily for me, I was a college athlete and most of my funding came and went without me having access to it. But what if I was a a stay-at-home mom like I am now? What would I have done? I am glad I don't have to find out.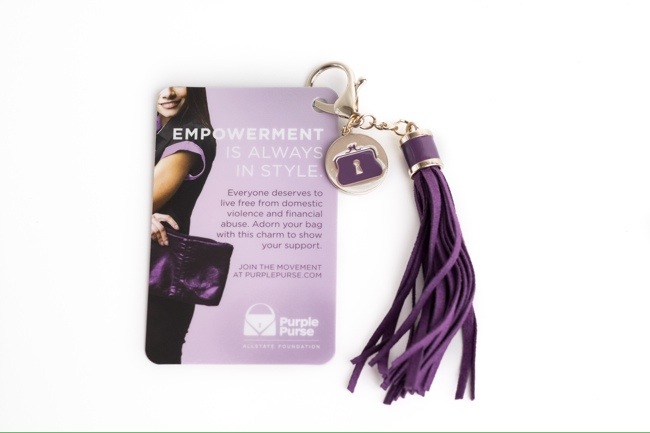 Financial abuse is one of the most powerful ways to control someone. It robs you of the ability to hope for a better future. Without money, you can't go anywhere, meet anyone , tell your story. It keeps you bound to the person causing you pain. The Allstate Foundation responded to this staggering problem by creating the Purple Purse program. The Purple Purse is the Foundation's national symbol for domestic violence and financial abuse to raise awareness and get people to openly talk about this important issue.
Allstate Foundation Purple Purse ignites fundraising for more than 140 national, state and local domestic violence organizations. Allstate Foundation Purple Purse is asking you to join the Challenge to support a nonprofit near you. Supporters can visit PurplePurse.com to make a donation (ends today). In addition to community/local contributions raised, The Allstate Foundation is investing nearly $650,000 in the Purple Purse Challenge – the more donations each nonprofit gets.
You can help ensure domestic violence survivors – likely someone you know, or someone you might never suspect – aren't financially trapped in an abusive relationship by joining the Purple Purse Challenge. Open your heart and wallet to stand up for survivors and the organizations that serve them at PurplePurse.com.  I got out of this abusive relationship when a beating, and I do mean a beating, got so severe I realized it had become a life or death situation. I sneaked out of my own apartment and ran to a Grey Hound station to take a bus home to Wisconsin. My family and friends ensured I was protected and never had to see him again. But what if I didn't have the money for that one-way fare?  What if I was more isolated?  What if my life or death realization came too late?  I'm glad AllState's Purple Purse project and the local domestic violence agencies are helping women in those situations.
If you or someone you know needs immediate help, call the National Domestic Violence Hotline at 1-800-799-SAFE (7233) or TTY 1-800-787-3224.
Disclosure: This post is part of a sponsored campaign with The Allstate Foundation and MomSelect. All thoughts and opinions are my own.