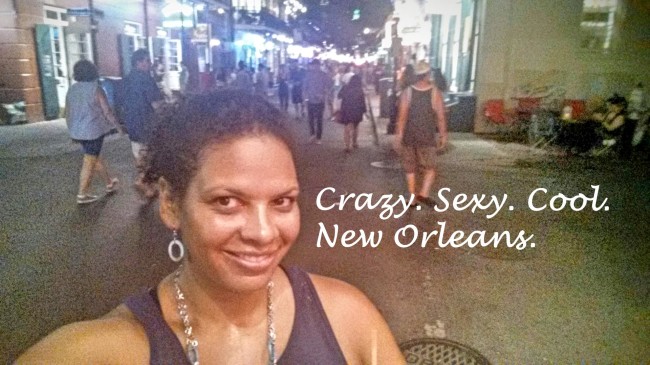 New Orleans is my new favorite city. I had the pleasure of spending a long weekend there while attending the Mocha Moms Girlfriend Getaway. It was a city I had always wanted to go to but for some reason had never been. And now I just can't wait to get back.
New Orleans is full of history…a dark, sexy, dangerous history with pirates and French barons and Spanish conquistadors that makes local historical lore sound like the romance novels I read on my Kindle (so no one can see the racy covers). The history there is palpable and living. It lives in the architecture, in the cobblestone alleys, in the eyes of the local sages wandering around Jackson Square at dusk. New Orleans in general and the French Quarter specifically drew me in with its intrigue and I can't stop wanting to know more.
Best Kept Secret in New Orleans: Maison de Ville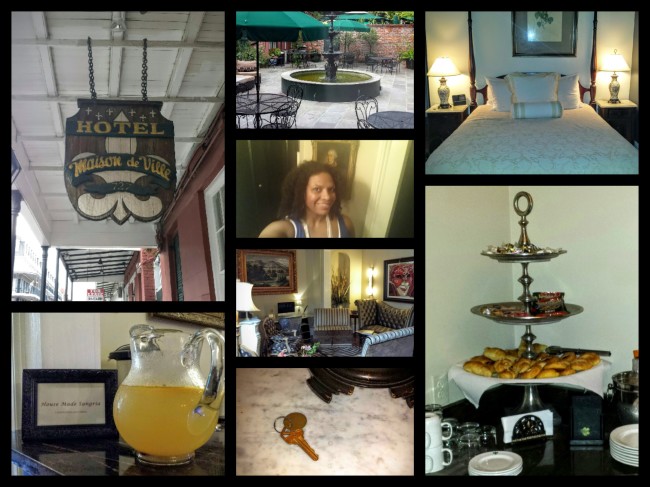 I had the good fortune of staying at the Hotel Maison de Ville, a luxurious yet authentic, French Quarter hotel just steps from Bourbon Street. I'm a bit of a hotel snob so I wasn't sure about staying in a hotel that didn't bear a brand name that's splashed across every major city in the world. However, I am so glad I took the recommendation from Visit New Orleans. I would never want to stay anywhere other than a hotel like this again!  Using the real key to come enter the Hotel Maison de Ville each day made me feel like I was coming home.
Built in 1783…let me say that again…BUILT IN 1783…this three-story structure was once the private townhome of Jean Baptiste Lillie Sarpy, a wealthy french merchant, and later Tennessee Williams. The rooms have all the necessities you would expect but also have pillowy four-poster beds, charming garden or street balconies, and furnishings reminiscent of the 18th century. My room also had a stocked mini-refrigerator and a wide variety of toiletries. The hotel even had a kitchen area open to guests with delicious pastries each morning, snacks and drinks throughout the day, and even sangria one night. All of them complimentary.
Maison de Ville is an adults-only hotel, which is perhaps a big part of its charm for me. It is the perfect place for a girlfriend getaway, boys weekend away, or the romantic tryst I'm planning in my head for my husband and I.
I really had a ball making my way through New Orleans, not venturing too far outside of the French Quarter and the Central Business District (thought I plan to explore more next time). There was so much to see. Here are some of  my favorites.
Five New Orleans Faves
1. Beignets at Cafe du Monde. This establishment has been serving beignets and cafe au lait at this spot in New Orleans since the Civil War. They are only closed for Christmas and hurricanes. Grab a table as soon as you see one. Flag down one of the harried servers and within minutes you'll be sinking your teeth into a warm, sugary, sweet ball of deliciousness. When you come to Cafe du Monde  bring cash and your patience. They don't take credit cards and the wait might be long…but it will be worth it.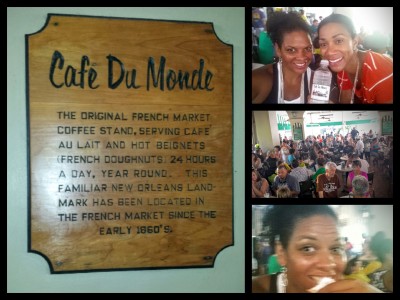 2. St. Louis Cathedral. While all the partying goes on during Saturday nights on Bourbon Street, the 'pardoning' goes on Sunday mornings at the beautiful Cathedral-Basilica of St. Louis King of France, the oldest cathedral in North America . I attended Sunday Mass here and found the crowd to be mostly tourists but still devout. It was cool and peaceful and the homily was right on point. Like most things in New Orleans that weekend, it fed my soul.
3. Shopping. Whether it was window shopping on Royal Street, laughing at the sometimes outrageous tourist shops on Bourbon Street, or getting down and dirty with some great summer sales at the Shops at Canal Place, I loved the shopping spirit in New Orleans. And there were lots of deals to be had.
4. Food. If all you did was eat when you were in New Orleans, you would leave a happy camper. There is no shortage of restaurants, some dating back hundreds of years. I found Remoulade on Bourbon Street to have great food and even better service. With a huge menu and quick turnover of tables, this is the place to go when you don't know where to go.
5. Cocktails at Dusk walking tour. While I'm not a big drinker, it was fascinating for me to learn so much about drinks that were originated in the very bar I was in! Mint Juleps, Sazeracs, and Pimms Cup drinks all came from New Orleans. It was fun and interesting and the 2.5 hours of walking during the humid July night totally burned off the calories from the drinks. Totally. I even got to try an absinthe cocktail at Pirates Alley Cafe that was frighteningly good. I shared the 4 ounce black licorice tasting drink with 4 people because it was so strong!  There are many walking tours in New Orleans but I had a great experience with NOLA Doubloon History and Heritage Tours.
New Orleans is called the Big Easy for a reason. It has a "let's put off until tomorrow what we could do today" type of town. I found myself pulled away from my to-do list and instead let loose with fellow Mocha Moms who have now become friends. I meandered down streets instead of my usual power walking. I skipped early morning workouts and opted for sleeping in and pain au chocolat instead. New Orleans helped to shake me out of my usual everything and forced me to just relax.