Anyone who has a girl knows that the American Girl store rarely has sales. They had one back in July (and I was able to get some early Christmas presents) but for those of you who still need their American Girl fix, today only (December 2, 2013) the American Girl store is offering huge discounts on select outfits and accessories!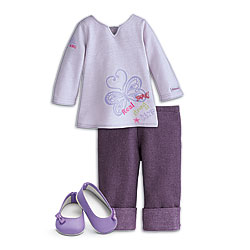 This "Real Me" outfit usually costs $26 but today is on sale for $8! Definitely take advantage of these sales. Quantities are limited. The sale runs through midnight CST so us on the East Coast get an extra hour to score more deals! Check back all week too for their Daily Deals!
Once your "deal shopping" is done, you may want to consider an American Girl doll as the big Christmas splurge this year. I was one of those moms who said I wouldn't pay that much for a doll, but then I went with my daughter to the store and couldn't resist. It's all about the experience. The dolls are well-made of course, and I like that they tell a story. I also love that they come in a variety of skin-tones.
Bitty-Baby Twins offer TWO dolls for one (lower) price
Have two daughters (or perhaps want to split the cost with a friend)? Consider getting the Bitty-Baby twins (especially if the kids are under 8). You get two 15 inch dolls, which can be customized by skin tone, hair color, eye color, and gender, two outfits, and a book for the $115 price tag. And the twins have hair that can be styled!
Buy matching clothes for a useful gift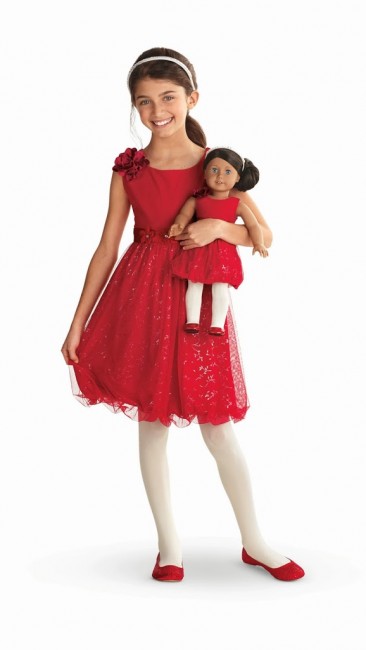 Sparkly Party Dress
I'm giving my daughter the Sparkly Party dress from the American Girl Store along with a matching one for her doll for Christmas. She will love it! I would have bought her a Christmas dress anyway so I don't feel so bad about the $68 price tag (the doll's dress retails for $36). Does your daughter need some new pajamas? Maybe you can make it extra special by buying the embroidered nightie based on Marie-Grace's 1853 New Orleans character or Molly's 1944 floral pajamas (both $42 each).
I can't wait to see my six year old's smiling face when she sees the extended wardrobe her doll will now have. And between you and me…I'm looking forward to helping to dress her doll up too. I foresee some great mother-daughter bonding this Christmas!
Disclosure: I received some complimentary products for review purposes. This didn't affect my opinion in the least.