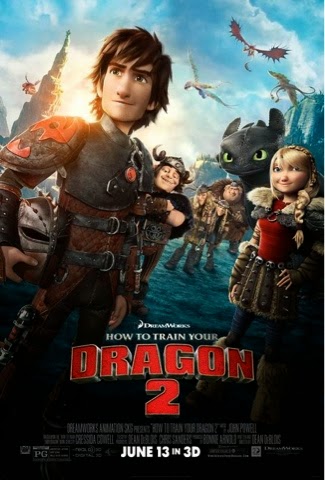 I had the pleasure of taking my three oldest kids to see a preview screening of How to Train Your Dragon 2 earlier this week at Atlantic Station's Regal Cinemas. The movie was fast-paced with great 3-D animation that made everything little thing, down to a dragon's eyelid flutter, seem so real.
How to Train Your Dragon 2 is Dreamworks newest animated movie. It takes the audience on a journey of discovery to a magical place on the island of Berk, where Hiccup and his dragon Toothless meet new, mysterious dragons and the Dragon Rider. The two are forced to relive an epic battle against the Dragon Rider in efforts to protect what they think is right and the peace of their community and island. The storyline promotes loyalty and leadership and introduces the importance of ideals and morals to all ages. How to Train Your Dragon 2 is not just for kids though! It offers a great guide for parents on how to train their little "dragons".
With Father's Day this Sunday, seeing How to Train Your Dragon 2, would be a great way to help celebrate a day of family and fun, while living out every boy's fantasy… battling dragons. Just know young kids, or those who tend to be frightened, might not totally appreciate this movie. It wasn't scary at all, but the dragons, even though they were nice, looked very real. My four year old was enthralled with the movie, especially all the "cool" dragons, but my five and seven year olds were a little wary. This movie seems like a great one for the grade school set and older (or for brave four year olds).