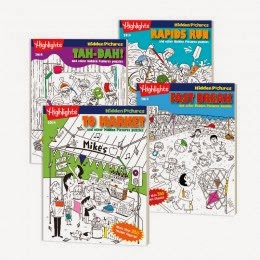 I don't know about you, but I am dreading seeming all the new toys that will be cluttering my house next week. It sounds so 'bah humbug' but my kids already have so much…stuff! So with that in mind, I've been looking for gifts that they will like but won't be broken (or boring) by New Years. And one of my best alternatives is to buy them books, activity packets, and craft kits. A perennial go-to is a subscription to Highlights Magazine.
My parents bought us a subscription to Highlights a few years ago and have renewed it ever since. My kids love getting some mail each month and the activities are just right for my 6, 5, and 3 year olds. Now that my oldest is reading she loves the fun stories. My 5 year old likes to do the mazes. And my 3 year old is getting into circling the hidden pictures. Everyone's happy…yay!
Highlights has three magazines which are designed specifically for that age group: Hello Magazine (0-2), High Five (2-6), and Highlights (6-12). The magazines keep the kids thinking and being curious and they don't even know they're learning! Brilliant! And new for 2014, Highlights has a unique 4-pack of Hidden Picture books ($19.95 for all 4) which I know will keep my kids quiet for hours 20 minutes. (Let's be real.) These books have over 100 puzzles though which will account for hours of fun spread out over the coming months. Highlights sent me some review copies of these books and they will be used during our 4 hour flight to Arizona next week!
Want to win a year-long subscription to any Highlights Magazine (a $34.99 value)? Just enter the EASY giveaway below. The winner gets to choose the best Highlights magazine for their family…just in time for Christmas. (The magazine won't show up by Christmas of course, but you could always print out activities from the website and wrap them with a note that a subscription is on the way.)