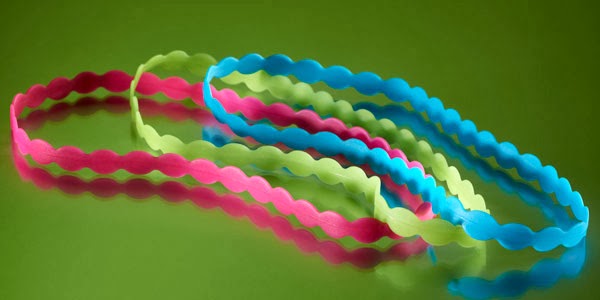 Enter the Scunci giveaway below!
The holidays are about giving and celebrating with loved ones near and far, but they are also about Christmas parties at your kids' schools and your husband's work and with your mom's group. They may also involve an event or two at the fabulous home of one of those frenemies you still have in your inner circle (for some reason or another). And you want to look good for all these events, but as a mom (like me) who doesn't have a lot of time or energy to spend on herself, it's tough. With that in mind, here are three EASY ways to walk into a party looking your best this holiday season.
Go sleek. I'm a huge fan of Hair by KISS products. I was given their silicon flatiron, and tornado ionic blow dryer after meeting the KISS crew at BlogHER in Chicago. The products are well made but very inexpensive and they get the job done! I am like to get my hair professionally blown out and then I use my own products to keep it looking fly. Check out my 5 ways to save a blow out post for some tips to keeping your hair looking great.
Adorn yourself. Trimming the tree is fun, but trim yourself too! Start simple, perhaps with a great headband. The people at Scunci sent me some headband samples that I really like. These headbands vary in color, size, and material but they all hold my hair in place and spruce up a boring ponytail or updo. They are also great for nixing irritating flyaways. SEE BELOW FOR A CHANCE TO WIN YOUR OWN SET OF SCUNCCI HEADBANDS. Also think about adding a statement piece of jewelry. My good friend Shameeka (@BrokeSocialite on Twitter) informed me that a signature piece of jewelry not only helps you feel good but can be a conversation starter for others too. Win-Win!
Bear gifts. Be like the Three Wise Men and come to your event with something special in hand. I was introduced to Moskoto Life during the Blogalicious conference and really enjoyed the crisp, sweet, refreshing taste. They also sent me two bottles that I shared at a recent couple's event I hosted. I think it took 20 minutes for us to down the two bottles and we were fighting over politely discussing who got to have the the last glass. It's that good. Moskato Life is sold all over the country and is easier than I thought to find by using the product locator on their website. Walk into a party with a unique bottle that you can share and people are bound to realize how cool you really are.
It's not easy to always feel good about yourself when you're entering into sometimes awkward social situations, but with a little preparation and a healthy dose of self-talking confidence, you'll be able to shine. Enter below to win some Scuncci products to start your holiday off right!