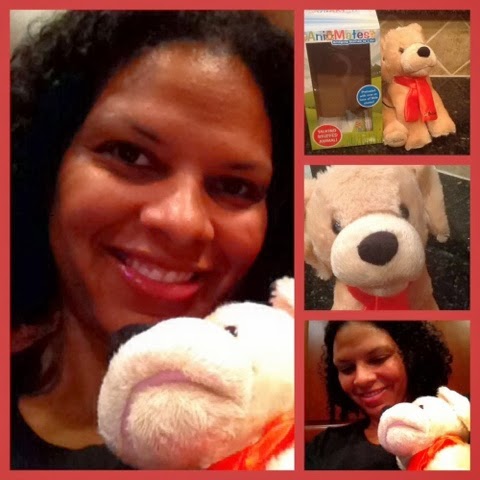 It is hard to incorporate Faith into daily life sometimes. Sure we go to church on Sundays and my boys go to a Christian preschool, but I should be doing more, especially at Christmas time. The question is: when? With four kids, I feel like I'm already stretched so thin that incorporating a home bible study makes me get that itchy, eye-twitchy, overwhelmed feeling. But I found the perfect solution: The Ani-Mates Talked Stuffed Animal which is preloaded with over an hour of Bible stories! It is the perfect Christmas gift for any Christian family with young children. (It is best for ages 0 to 8 in my opinion).
My friends at MomsSelect sent me this super cute, plush toy that comes with over 30 New Testament stories just in time for Christmas. (I was asked to write this review but no compensation besides the bear was given to me. Oh and it wouldn't have swayed my opinions anyway.) The bear's mouth opens and closes so it looks like he is speaking which my kids will love. Plus (and this is super cool), you can connect this tech-savvy bear to your Smartphone to play apps (Ani-Mates has a free app with more bible stories and videos) or use a speakerphone to connect with relatives! You can even record a gift message for the recipient. Love it!
Ani-Mates are the new, interactive plush toy from GoBible, the leader in audio Bibles. The professionally recorded children's Bible stories are brought to vivid life by the Ani-Mates for young listeners. The Ani-Mates, a bear and a puppy, with a lamb coming for the Easter season, play the digitally recorded Bible stories through hidden speakers. And with the download of the free app, children can watch the stories come to life on a smartphone as they listen to the stories being told!
Order your Ani-Mate NOW for Christmas! They retail online for $49.95 but I'm giving one away for FREE! Just enter below!