Disclosure: I received complimentary or media rates for these accommodations, car use, and some food and activities for review purposes. As always my opinion wasn't swayed.
I love the holidays. Sure the presents and the decorations and good food are great, but the reason I am so over-the-top, can't-stop-smiling exuberant is because my family of six is starting our Arizona Adventure, flying to Phoenix to spend Christmas and New Year's with my older sisters, my parents, my brother-in-law, and my eight nieces and nephews. Yay!!
Since it costs an arm and a leg (and then some) for all of us to fly out to Arizona, we aren't able to make the trip very often. It has been two years since all of us were together and I plan to make the most of it. This trip is even more exciting because we have two fun getaways lined up while we are on our
Arizona Adventure!

Ice skating in the desert!
Firstly, we will spend a weekend at the
Fairmont Scottsdale Princess
resort checking out their holiday decorations (including a four story musical tree), enjoying the many kids activities (can you say supervised kids camp?), and enjoying some authentic Arizona cuisine at their family friendly fine dining restaurant La Hacienda. They even have an ice skating rink…in the desert! And just maybe we can leave the kids with my family for a night to experience the resort as a couple. Here's to hoping!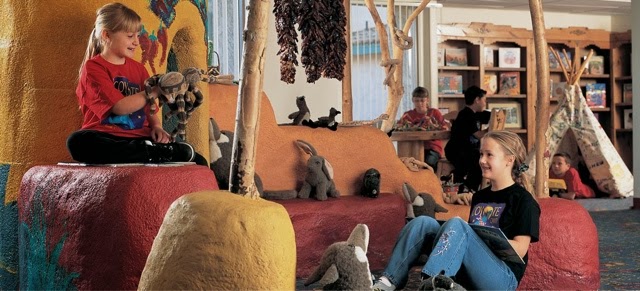 Can't wait to see this kid's area!
Our second special getaway will be over the New Year's holiday. Nineteen members of my family will ring in 2014 together at the
Pointe Hilton Squaw Peak
. It is the resort where my sister got married 18 years ago! It is an all-suite hotel so we'll have plenty of room to spread out in our rooms. And they are hosting a family-friendly New Year's Eve party which we will all be in attendance. With 12 kids between my sister and I, going to a "real" New Year's Eve party has been a pipe dream, but the Squaw Peak Hilton created this event so we can bring our clan with us. My kids are hoping the weather is nice enough to take a dip in the resort's Lazy River and I'm hoping I can get a niece or nephew to take them. I'm going to take advantage of having family around as much as I can!
We will be getting around Scottsdale in style while checking out the a 2014 Kia Sorrento thanks to
STI- The Drive Experience Company
. I absolutely loved the
Kia Soul
(otherwise known as the cool kids car) that I reviewed earlier this year. It's not easy finding a car that fits a family of 6 comfortably and with some cool points thrown in. It will definitely be a step up from my minivan. Woot woot!
Want to follow along with our escapades? Maybe learn how crazy…err…ambitious I am to travel across country with 4 kids under the age of 7? Check out the hastag #ArizonaAdventure on Twitter or Facebook. This is going to be one scary/thrilling/amusing/exciting Arizona Adventure!