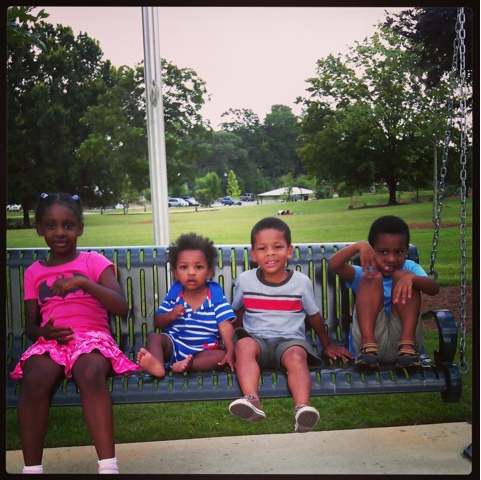 My 4 reasons to stay-at-home
Being happy and being a stay-at-home mom are not mutually exclusive entities.
I am a stay-at-home mom. I don't apologize for it. I don't beat behind the bush about it. I left my "high power" job as a TV producer to concentrate on my family. And I'm glad I did. I'm happy. My family, which now includes four kids and a husband, is happy. I "opted out" 7 years ago and that was the best decision I ever made. So when I read today's New York Times article, "
The Opt-Out Generation Wants Back In
", I was a little disappointed.
There is an angle missing from this article and that is one of the women who left behind the six-figure salaries but have found a way to be fulfilled while being home with their families. One of the women in the article, Kuae Mattox, is the national president of
Mocha Moms, Inc
, a national non-profit for stay-at-home moms of color. I've been a member for six years and have loved getting to know other women who have made the choice, in one way or another, to put their families first. For some it only lasts a short time and others, like myself, feel privileged and content to continue being at home long term. Happy stay-at-home mothers DO exist. We all don't want to opt back in.
I respect Kuae's candidness and the choices she has made, and will continue to make, for her family. She wants to opt back into the workforce, and maybe I will too one day. Everyone has to make the best choices for themselves and their families, and those choices may change over time. But for now, I'm a happy stay-at-home mom. My freelance writing and
this blog
give me a great creative outlet, and I use my educational credentials and work experience to be a better mother to my four children. I have a messy house, serve frozen pizza occasionally, and I do
not
throw Martha Stewart-esque parties, but I'm a happy stay-at-home mom who is exactly where she is supposed to be in this life: at home.