My family and I were treated to a media weekend at the Great Wolf Lodge-Concord/Charlotte this month to experience all they have to offer families. We received complimentary or discounted accommodations, dining, and activities while we were there. While I'm always thrilled to be invited somewhere fun, all opinions are my own.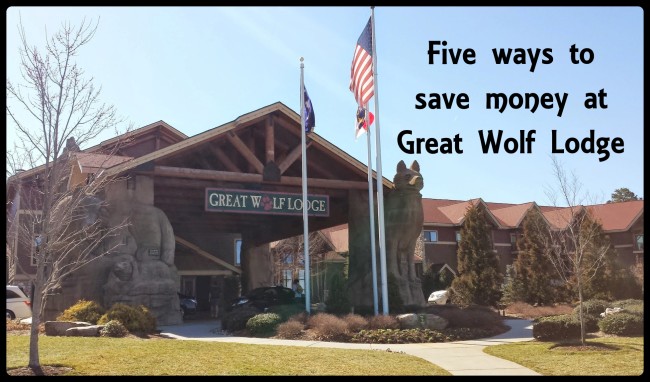 The concept behind Great Wolf Lodge is genius. Give families an indoor waterpark to play in the water ALL DAY LONG no matter the temperature outside and then provide a fun resort with activities, dining, and fun galore connected to said waterpark. Make it super family-friendly and exciting for kids of all ages and families will come in droves, right? Right! Great Wolf Lodge is a fantastic getaway for families! It could be a perfect Spring Break trip or  a quick summer vacation when it's just too darn hot to be outside all day.
Since Great Wolf Lodge resorts are so fabulous for families and they offer so much to do, some people might think they aren't affordable. I'm here to tell you otherwise. Sure you can spend a lot of money at Great Wolf Lodge if you want to, but there are many ways to save you money and make a few days at Great Wolf Lodge work nicely into your budget.
Five Ways To Save Money at Great Wolf Lodge
Sign up to be an ePack member. It's free and easy and might get you first dibs at some of the best deals on rooms at Great Wolf Lodge. Currently, they have a members-only special for $159/night.
Share meals. The Lodge Wood-Fired Grill recently opened at the Concord/Charlotte location with delicious upscale food with top-notch ingredients. Save money with the kids by having them split an adult meal. The meals are huge and the server will gladly bring you an extra plate.
Bring food for the room. Playing in the water all day makes kids work up an appetite but buying snack food all day can add up. Take breaks throughout the day to come back to the room for a quick bite to eat. (Outside food cannot be brought into the waterpark.) Be sure to pack some nutritious foods but also some fun ones the kids don't normally get at home. Also, every room comes with a mini-fridge and a microwave. Don't be afraid to use them!  I really enjoyed the food at Great Wolf Lodge but I know if could get real expensive real quick with my four kids. Being able to bring the food they will eat was very helpful. And don't forget the microwave popcorn for a late night treat!
Take advantage of the two-day indoor waterpark passes. Guests can start checking into their rooms at 4 p.m. on the date of arrival but they can play in the waterpark as early as 1 p.m. Then, on check-out day, guests can stay until the waterpark closes (at 9 p.m.) even though check out is at 11 a.m. There are shower and changing facilities to make that easy on everyone.
Share! Instead of every kid getting their own wand for a MagiQuest Adventure, which my kids REALLY got into, let them share it and do it as a team. Instead of everyone getting their own game card at the Northern Lights Arcade, share one card to get the bonus tokens for putting more on that card. Don't want to shell out $4+ per person for ice cream? Get the gigantic "Tipping Bucket" souvenir sundae from Buckets and SHARE! Your kids are able to do it. I promise.
Be sure to set the parameters with your kids ahead of time. Help them understand they will get to do some stuff but they won't get to do everything. Then pick a few things they will love and go for it. Kids don't remember things, they remember experiences. And a Great Wolf Lodge experience is definitely something they will remember!