My family and I were treated to a media weekend at the Great Wolf Lodge-Concord/Charlotte. We received complimentary or discounted accommodations, dining, and activities while we were there. While I'm always thrilled to be invited somewhere fun, all opinions are my own.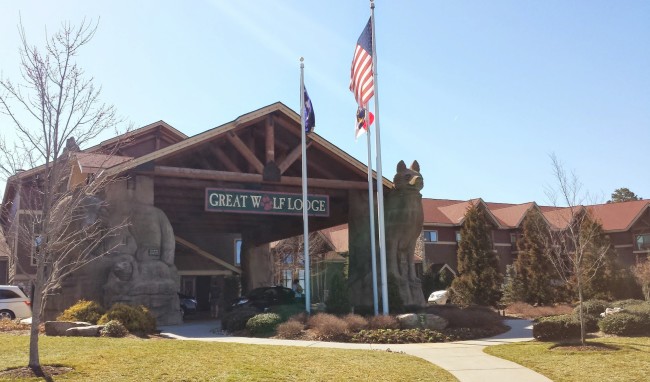 Not too long ago I told you about 5 ways to save money at Great Wolf Lodge. Since I just couldn't fit all the great information I learned in one post, I had to write another one. So as you are planning your family vacations this year, here are five more ways you can enjoy the fun at a Great Wolf Lodge without breaking the budget.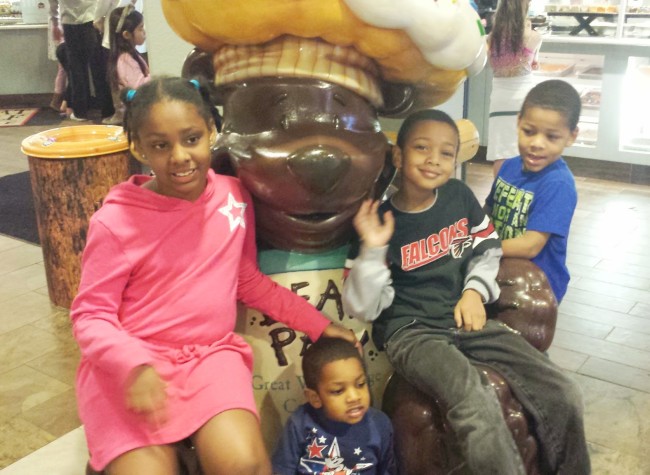 Five MORE ways to save money at Great Wolf Lodge
Take advantage of the free stuff. Great Wolf Lodge offers every day such as a nightly story time (in pajamas), dance parties, character meet and greets, play time in the Cub Club, and other special events. Sure there's a cost to most things, but point your kids in the direction of the free things too!
Vacation in the off-season. If possible, plan your visit to a Great Wolf Lodge when everyone else is in school. This would work well for those kids who have random days off throughout the year or who follow a non-traditional school schedule.  Great Wolf Lodge management said September is the best (and most affordable) month to visit.
Look for spa deals. Do you have a daughter who really wants to visit Scooops Kid Spa?  The $49.99 price for a pedicure might be a budget-buster, but ask for the $29.99 polish change special instead. The girls don't know the difference and they still get all the extras like a Scooops tiara (to keep) and a voucher for a free ice cream!  This is especially helpful if there are more than one little girls in your family! Want something from Scooops Kid Spa even less expensive? Stop by and ask for the "Sprinkle" package. For $9.99, the girl gets a scented hair shot (just what it sounds like), lip gloss application, a sash, tiara and a hand massage with ice cream flavored lotion.
"Splurge" on pizza. If you brought cereal for breakfast and turkey sandwiches for lunch then go ahead and splurge on the surprisingly delicious pizza at Hungry as a Wolf. A whole pizza is under $12 and will feed most families. For a complete meal, they offer a $29.99 family meal that includes pizza, breadsticks, salad, and soda. It's a lot of food!  We may or may not have eaten leftovers the next morning. And they have gone to great lengths to make sure the food is fresh, hot, and made with top-notch ingredients.
Use the refrigerator and microwave. Since every room has them, put them to use. Of course this means bring food from home, but it also means getting a to-go bag when your kid eats one bite from his turkey burger. He can eat it later. (Or you can. I won't tell.)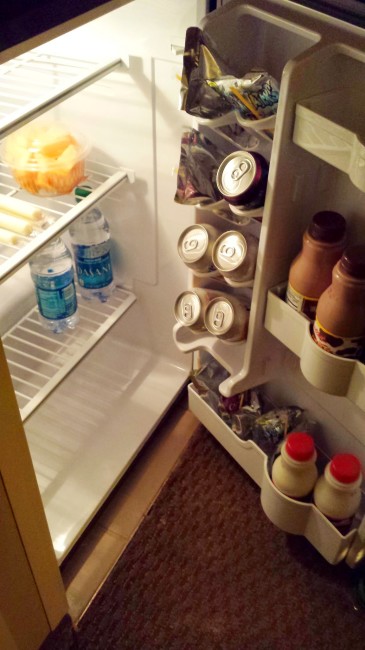 Great Wolf Lodge is one of the most accommodating, family-friendly resorts I've ever visited. They will bend over backwards to make your trip great. I LOVE that they are so conscious about food allergies and make sure that everyone can enjoy themselves. (Their Concord/Charlotte and New England locations are totally nut-free properties!)  However, you typically have to pay a bit more to get such great service. I hope these tips help you save a bit of money on your trip to Great Wolf Lodge. Your kids will thank you!