"There's no good children's programming anymore."
"I wish there were kid's movies without any questionable content."
"Where are the family movies I watched growing up?"
The people behind the movie The Boxcar Children have heard your woes and answered with this delightful tale, perfect for the whole family! This animated feature adaptation of Gertrude Chandler Warner's beloved story The Boxcar Children is now available on DVD and can be yours by entering the exclusive giveaway below!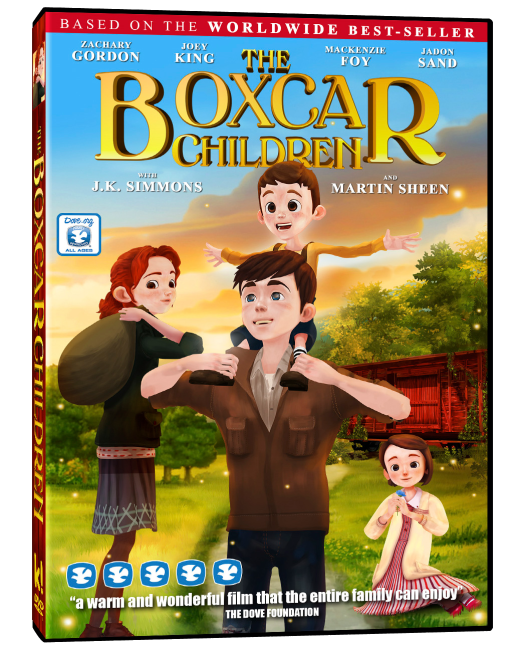 Featuring an all-star cast of voice actors, including Academy Award Nominee Martin Sheen (Apocalypse Now), J.K. Simmons (Spiderman), Zach Gordon (Diary of a Wimpy Kid), Joey King (Fargo), Mackenzie Foy (Twilight series), and Jadon Sand (LEGO: The Movie), this is the very first full-length, animated feature adaptation of Gertrude Chandler Warner's best-selling classic!
I first found The Boxcar Children on Netflix. Of course I did. I'm a member of the Netflix #Streamteam and get access to this great service plus some insider info each month. All opinions of Netflix though are strictly my own. I find so many great programs for myself and my kids on Netflix that I want to share!
I was looking for a movie for a family pizza and movie night during one of Atlanta's non-snowing snow days (#soannoying) and found The Boxcar Children. It held the attention of all my kids (ranging from 2 to 7 at the time) and both my husband and I were engaged as well. I was thrilled to learn that the book The Boxcar Children is still available and my 2nd grade daughter is happy to have a new book to devour read.
Want some more feel good family movies and TV shows? Check out my current top five favs streaming now on Netflix:
Since there are times when Netflix isn't available (long car trips, iPad not charged, brother/sister/mother monopolizing Netflix queue) enter the giveaway below to win an autographed DVD of The Boxcar Children in addition to The Boxcar Children Guide to Adventure book! (Giveaway only open to residents of the Continental US.)
a Rafflecopter giveaway