Shots are no fun for anyone, especially kids. But what if your kids couldn't get them? What if your child wouldn't live past their 5th birthday without the immunizations Americans take for granted? What if getting a shot actually meant your child would LIVE? This is the situation facing many mothers in developing countries and now there's something we can do about it!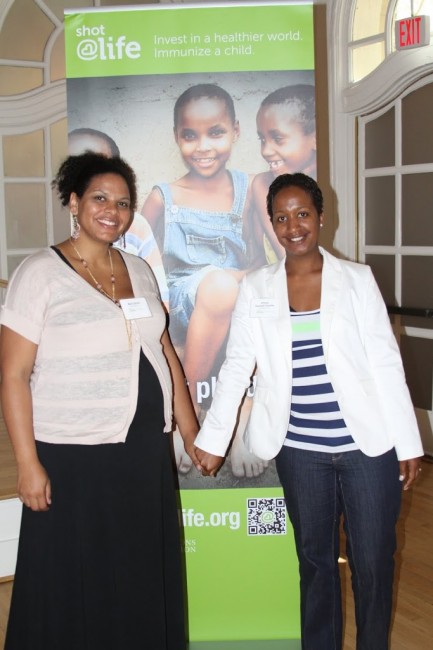 Myself and Emma Dashiell-Charles, fellow Mocha Mom & Shot@Life Champion
Today marks the beginning of World Immunizations Week and one of the biggest events taking place is the week is the launching of the Shot@Life campaign by the UN Foundation. I was honored to be asked to represent Mocha Moms Inc as a Shot@Life Champion to bring awareness and fundraising to this great cause. Every 20 seconds a child dies of a preventable disease. I want to do everything I can to make that sentence false. And you can help too!
It only takes $20 to fully immunize a child who otherwise would not have access to vaccines. For the cost of a lunch out, you can give a child a shot at a lifetime of "firsts". From first teeth to first days of school to first loves, children everywhere should get a shot at celebrating the things that American children take for granted. You can donate any amount of money easily online, and it will go to ensure more children have a shot at every important milestone in childhood.
I implore you to join me in standing up for children who can't stand up for themselves and to get involved in the life-giving Shot@Life campaign. Simply signing the Shot@Life pledge will add your voice to the movement of Americans who are committed to reducing preventable childhood deaths worldwide.