Having a baby can be expensive. Clothing, feeding, housing and entertaining those little bundles of joy sure adds up, so when I hear about a good sale for new parents I have to let people know. I do love a good deal! And Sears is having one! (Check it out here: http://bit.ly/124Q0ne!)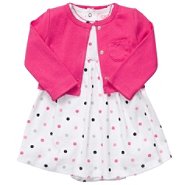 This cute Carter's dress is 50% off!
Saving money on baby essentials can be a huge relief to stressed out, sleep deprived parents. The focus should be on what color to paint the nursery or when Grandma can visit or maybe what "push" present hubby will pick out. (And yes, a "push" present is imperative Dads.). So sit back and relax…wait you might fall asleep…go ahead and get over to Sears for their "All Things Baby" sale and cross baby necessities off your long to do list!
This is a sponsored post. I am a Sears blogger, though all opinions are my own.