Christmas is almost here but I'm already thinking of the next holiday. No…not New Year's or MLK Day or President's Day. One of the biggest holidays of the year in my book…the Super Bowl!


I love football, well more specifically, I love NFL football when the Green Bay Packers are playing. As the reigning Super Bowl champs they are well-positioned to do it again in 2012 and I will be watching, waiting, and cheering them on. I have never been to a Super Bowl but I would love make it to Indianapolis this year to (hopefully) cheer on my Packers but also because I learned about this super cool NFL-sanctioned Super Bowl Gospel Celebration the Friday before the Super Bowl.


Celebrating 13 years of inspiration, this event transcends the traditional Super Bowl Weekend activity, bringing together top NFL players and Grammy Award-winning artists together on one stage, for one night, on one accord. And you can bet that no one will be arrested after this party!
Though the star-studded line-up for the 2012 Super Bowl Gospel Celebration will be announced next month, there will bound to be top name players and music icons performing and making appearances. Past events have boasted marquee players like Donovan McNabb, Ray Lewis, Cris Carter, John Elway, Darrell Green, and Coaches Tony Dungy and Lovie Smith, and music icons including Kirk Franklin, CeCe Winans, Yolanda Adams, Jaci Velasquez, Donnie McClurkin, Hezekiah Walker and many others.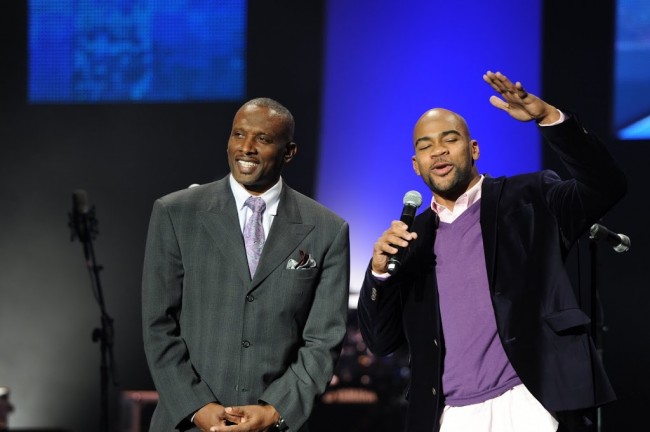 Tim Brown and Antwaan Randle El at the 2011 event
The event also serves as a fundraiser with a portion of the proceeds benefiting national and local charities. To date, more than $400,000 and 5,000 tickets have been donated.
MORE INFORMATION
WHERE: Clowes Memorial Hall on Butler University, Indianapolis, IN
WHEN: Friday, February 3, 2011 at 7:30 p.m.
HOW MUCH: Tickets start at $39 (additional service fees and taxes are extra) and are available at Ticketmaster locations in Indianapolis, www.Ticketmaster.com, Clowes Memorial Hall or by visiting www.superbowlgospel.com.