"The Get Down" a brand-new series debuting on Netflix August 12th is the show you have been waiting for. It is one of the most expensive TV series in history and has been over two years in the making with iconic director, Baz Luhrmann at the helm. (He's the director of films such as "Moulin Rouge" and "Great Gatsby".)
Netflix is betting that a musical based on the lives of a ragtag group of New York City teens (South Bronx to be exact) in the late 1970's is going to snag and hold the attention of viewers which is incredibly hard to do in this day. "The Get Down" is as much about the transformation of New York City from 1977 to 1979 as it his about the transformation of Black music with the introduction of rap and hip-hop.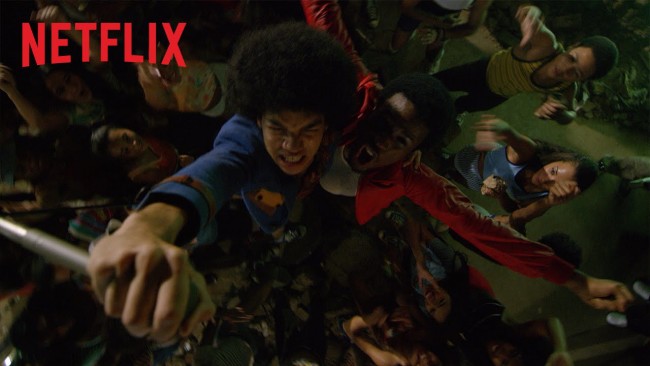 There has reportedly been numerous issues with production including crew changes, strained relationships with Sony Pictures Television (which is producing the series), and ballooning costs. In fact, Variety is reporting that the first season went way over budget and will end up cost at least $120 million overall, and that factors in the tax incentives the show received from moving operations to New York for authenticity sake. While Netflix is known for their original programming and seemingly unlimited pockets, "The Get Down" is still a huge gamble. One many people (including me) think will pay off.
Why I'm Excited About The Get Down
I grew up in 1980's Wisconsin which is about as far removed as you can be from 1970's New York but there is still something about that period, about that location, that I feel connected to. As the birth place to modern day hip-hop and rap, the Bronx is holy ground for a lot of music aficionados. It doesn't matter that I don't know if it's the A Train or the E train that gets me up there, I can still groove with the music.
There's so much I don't know about this time period, so much I want to learn, so many beats I want to hear. I love that Luhrmann was able to weave musical performances of both original and period music and dance sequences into the story sequence in each episode. From what has been reported, the songs are part of the plot, part of the overall story, and not just a way to throw in some beats.
Since the music of the era is one of the cornerstones of this series, I was happy to see that Luhrmann enlisted people who had first-hand knowledge of the music, location, and time period. Nelson George, a journalist, author, and filmmaker known for his commentary on the African American culture joined the team. Grandmaster Flash, a pioneer in the rap industry who grew up in the Bronx was also brought on as a partner as was rapper and entrepreneur, Nas, who composed original music for each of the episodes.
The first season will be twelve 1-hour episodes, the first half of which will start streaming on August 12th. Check out this trailer for yourself and let me know if you are as intrigued with this newest Netflix series as I am!