Learning a few furniture shopping tips can make furniture shopping a fun activity. In my perspective, it has not been a fun experience at all. In fact, I found furniture shopping to be stressful, expensive and really just a hassle. And then I visited Underpriced Furniture in Norcross, Georgia.
I attended a blogger get together at Underpriced Furniture last month and was pleasantly surprised at what I found. Everything I thought I knew about furniture shopping just went out the window. I quickly realized it could be fun and enjoyable and well…easy. Underpriced Furniture taught me some great furniture shopping tips I didn't know. And now I get to share them with you.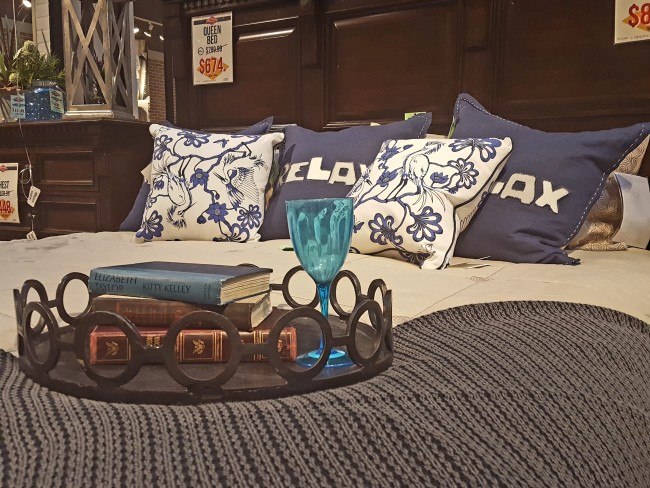 Before your next furniture shopping expedition, here are seven things you need to look for to find a good deal, get some great furniture, and be able to enjoy yourself as well. If you are near Atlanta, it is worth the trip to visit Underpriced Furniture. Not in the area? Use these furniture shopping tips to find a furniture store that measures up before you spend your time and money furniture shopping.
Seven Furniture Shopping Tips
Make sure there are no commissioned sales people. I hate the feeling of sales people circling around me like vultures when I walk into a typical furniture store. I am not sure they are giving me good advice or just trying to sell me something. At Underpriced Furniture, all the sales staff is there just to help. They don't make extra money if you buy something. They really are trying to help you have a good experience.
Look for lots of pieces in stock today. Underpriced Furniture has thousands of pieces of furniture in many styles, colors, and price points in stock and available right now. I hate finding something I love only to learn I have to wait weeks to actually get it. A good furniture store won't make you wait.
Request same day delivery. Since I don't like waiting, I was very impressed when I found out that Underpriced Furniture will deliver any in stock furniture within 25 miles of the store on the same day its purchased. They do charge a fee of $99 which covers all the furniture you want delivered. I don't know of any other furniture store that does this!
Look for easy comparisons. I loved how Underpriced Furniture made such smart use of their gigantic space. They figured out a way to show several different colors of the same piece of furniture in the same space for easy comparison. It should not be difficult to see different colors or styles. You shouldn't have to find a salesperson or look at a swatch and guess how it will really look. 
Make sure the prices are easily seen. I have disliked furniture shopping because I felt like I was constantly asking the salesperson for prices or practically getting out a magnifying glass to see a tiny price tag. Oh, and the worst is when there's a price listed but it doesn't include everything seen. I loved the huge price signs at Underpriced Furniture. They were definitely not hiding the prices. And honestly, the prices were so good, it's no wonder they want to show them off.
Get a good service agreement. If something goes wrong due to no fault of your own, make sure that the furniture store where you bought the piece can help you. Underpriced Furniture said that they will service or replace any furniture if something happens that is not the customers fault. You can tell they take pride in their pieces and are not going to sell you something cheap.
Buy affordable furniture, not cheap furniture. This is a tough distinction at times. Cheap furniture doesn't cost a lot up front but it will probably need to be replaced quickly and not look as good in a short period of time. It probably won't be as comfortable either. Affordable furniture means you are getting great quality furniture at a great price. Getting the most for your money is the key.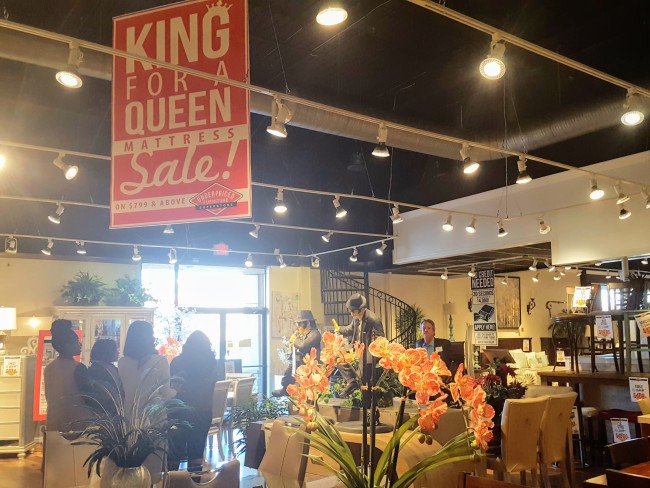 Next time you are out shopping, keep these furniture shopping tips in mind to have a stress-free experience. And if you are in Atlanta, just save yourself time and money and head to Underpriced Furniture!