This post is sponsored by Everywhere Agency; however, all thoughts and opinions expressed are my own.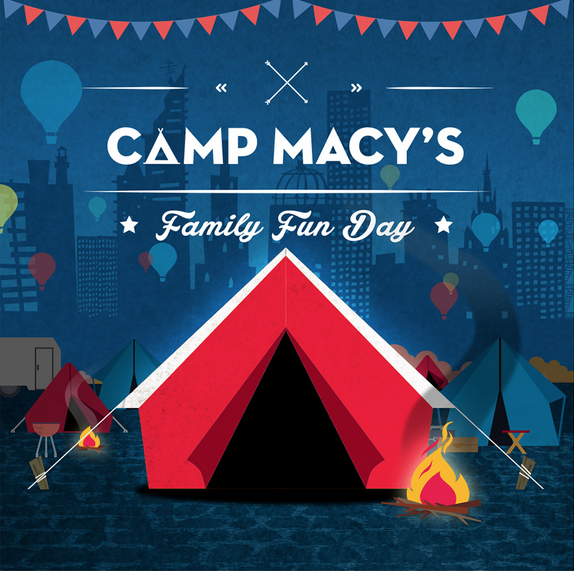 Looking for some free summer fun? Want summer activities the whole family can enjoy? Want to shop and keep your kids occupied? Since I know you answered "yes, yes and heck yes", I have to tell you about Camp Macy's taking place at Southlake Mall June 14th. As part of their American Icons campaign, Macy's stores around the country are hosting Camp Macy's with all sorts of activities Moms and Dads will remember from going to camp as kids. From singing around a campfire to playing silly games to making (and eating) yummy s'more after s'more, summer camp should be a special time for everyone. And Macy's aims to do just that!
At Camp Macy's, kids will be able to enjoy an indoor camp experience with music, storytelling, games and snacks. No bug spray necessary! There will also be crafts to show off your American spirit, refreshments for all, giveaways, and more! Plus, families get to have fun together! Make a day of it! Create some memories! Let the Macy's magic filter into your summer! Celebrate summer with Camp Macy's!
While you're having fun at this Camp Macy's event, be sure to capture special moments of family fun and share them on social media using #AmericanSelfie. You'll be entered into to be entered into a giveaway run by Macy's. You might even win a chance to participate in Macy's Fourth of July Fireworks show in New York City (and seen live on NBC)! Now that would be a memory maker for sure! Macy's will also donate $1 for each #AmericanSelfie post on Twitter or Instagram from now through July 4, up to $250,000, to support America's veterans with Got Your 6.
Not in Atlanta? No problem. Camp Macy's is coming to 17 cities nationwide so look for a location near you!
More information on Camp Macy's
Who: Everyone
When: June 14, 2015, 2pm to 5pm
Where: Macy's Southlake Mall, 2nd Floor Children's Department, 

1000 Southlake Cir, Morrow, GA 30260 

(770) 961-1050
Why: For a family fun day to celebrate summer and Macy's American icon campaign
How much: FREE