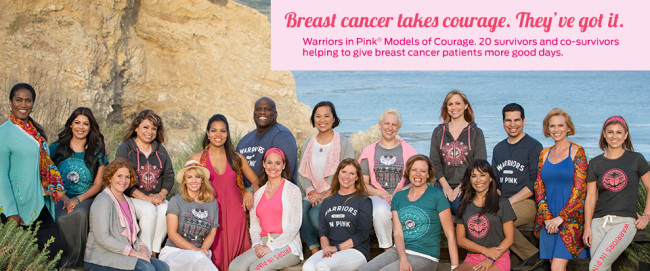 October is breast cancer awareness month. This year I'm more aware of breast cancer than ever before. I have friends who are going through chemotherapy, another who had a double mastectomy this month to circumvent a repeat performance, and another who went through the scare of her life only to find out the tumor she felt in her breast was benign. Maybe it's because I'm getting older or maybe it's because breast cancer is getting more prevalent. Either way, breast cancer awareness month has taken on a new meaning for me. It's personal now.
This is why I was so pleased to hear about Ford Motor Company's powerful call to action with the launch of their The Good Day Project. Instead of just focusing on awareness (which is good) or research (good too), they are also actively working to bring more good days to those living with breast cancer. (Great!)
Through its Warriors in Pink campaign, Ford has been committed to fight breast cancer for more than two decades.  They have contributed more than $128 million to breast cancer awareness, research, and other initiatives. Ford has inspired women to be proactive about their breast health in the past, but now they are going one step further and encouraging people to step up and help the women battling the disease. 
"Most breast cancer patients characterize their days by 'good days' and 'bad days,'" said Tracy Magee, Ford Warriors in Pink brand manager. "While many people want to help, most are unsure of the best way to show their support. We want to change this.
"Warriors in Pink is about driving awareness, and about motivating people to help in the battle against breast cancer," added Magee. "With The Good Day Project, we hope to empower people to take real action and help provide more good days to those living with the disease."
Ford has partnered with Meal Train, an online platform for organizing meals to those that need it like breast cancer patients, and Lyft, a ride-sharing service. Meal Train will let friends and family get free access to the premium service Meal Train Plus so they can plan out meals but also other household needs such as errand services and childcare. Sometimes a little organization is what it takes to get people to move from 'what can I do?' to actually doing something!
Since June, Lyft has been offering rides to and from appointments for select patients undergoing treatment in 17 cities through select treatment centers. Ford is putting it's money where its mouth is and has figured out how to provide support services and resources that benefit those dealing with breast cancer.  They are helping to make their day-to-day life easier and hopefully giving them more good days.
In addition to the partnerships with Meal Train and Lyft, Ford Warriors in Pink has created new ideas, tips and tools as part of The Good Day Project to help people carry out simple acts that bring about more good days. These include:
A free postcard mailing service launching in June; visitors can customize a message that Warriors in Pink will send to their loved ones
A list of books of encouragement selected by those who have had experience with breast cancer
Spotify playlist with songs of encouragement and empowerment

Advice from Warriors in Pink Models of Courage members on how to get through the hard days of treatment, along with inspiring ways to celebrate the good days 

Health and financial information from the four charity partners of Ford Warriors in Pink – The Pink Fund, Susan G. Komen, Dr. Susan Love Research Foundation and Young Survival Coalition

An opportunity to win various "good day" experiences – from flowers to relaxing spa treatments and even a grand prize of an all-new Ford Mustang
Want to know more? Check out www.fordcares.com for more information on all the Ford Warriors in Pink initiatives. What will you do?