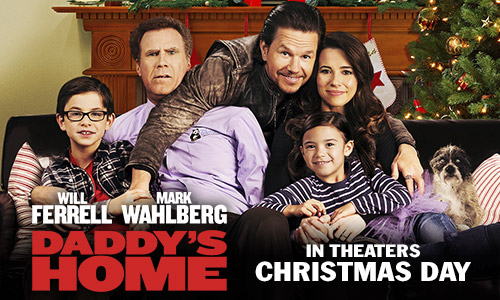 Why should you go see the new film, Daddy's Home, this Christmas? Let's face it: Christmas can get a little serious. I think it could use a shot of silliness! Between the stress created trying to get everything done and live up to everyone's expectations and the obligatory religious and family traditions, sometimes you just want to sit down for a bit and laugh.
The movie Daddy's Home is for anyone who knows that men have a tendency to act like boys, or anyone who has a wicked sense of humor and can appreciate a good comeback, or anyone who needs a reminder in how to be silly. Daddy's Home can satisfy all these needs.
This Christmas Day, take the whole family to enjoy the PG comedy, Daddy's Home with the always funny Will Farrell and the always deliciously cute, Mark Wahlberg. In Daddy's Home, Ferrell pays a
mild-mannered radio executive wants to be the best stepdad EVER to his wife's two children, but of course complications ensue when their bad a** biological father (Wahlberg) comes freewheeling back into the picture. The two compete for the affection of the kids and act like kids themselves…hilariously funny kids.
Daddy's Home is all about one-upmanship. In the movie, Wahlberg buys his kids a scraggly dog. Ferrell tops him at Christmas with…get this…a pony!  Daddy's Home is full of physical comedy like Ferrell getting thrown off of a motorcycle, smashing head first through a bathroom wall or being knocked the heck out by a zip-lining Wahlberg. Check out all the funny moments in the trailer. (But I'm told not ALL the funny moments are in the trailer. I hate that.)
This Christmas, when the wrapping paper shreds are littering your living room, brunch dishes are taking up residence in your sink, and your new Apple Watch (!!) is charging, take the family to the movies! Shake off the cobwebs of your funny bone and remind yourself that Christmas is supposed to be fun! Check out Daddy's Home and laugh your way through the holiday. There will be plenty of time for seriousness in January! 
Want to learn more? Be sure to follow the social media accounts for Daddy's Home: