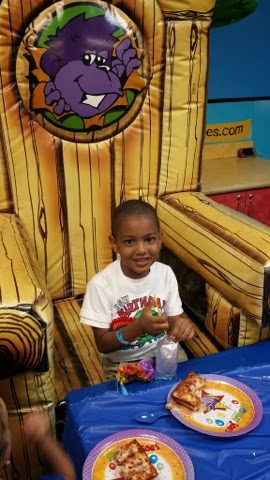 I was very happy when Monkey Joe's asked me to review their birthday party options in exchange for a complimentary birthday party. I had a 5th birthday party to plan for my second born and I found myself just plain tired of the birthday party planning process. Kid's parties can get over-the-top expensive, super time-consuming, and Stressful (note the capital S). I was looking for a fun, easy, low-key way to celebrate my son's birthday and Monkey Joe/s was a great fit.
Since kids' birthday parties can get overwhelming, here's my top five tips (in deference to my now 5 year old) to host, an easy, affordable birthday party: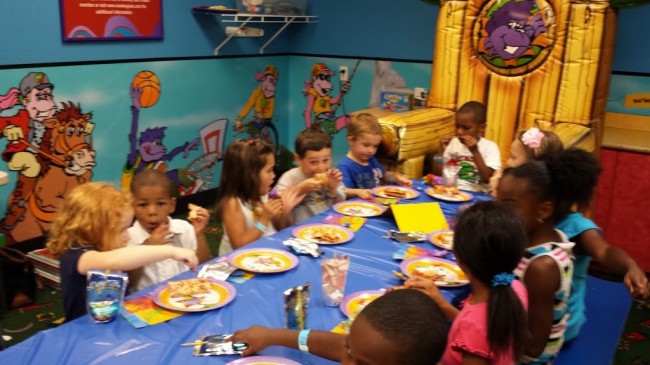 1. Check out "all-inclusive" party planning places in your area.
These party places can take over the stress and you get to enjoy the process and the party. For younger kids (12 and under), inflatable play house are great.
Monkey Joe's
was fantastic to work with and took care of just about everything from the invites to the decorations to the food and drinks. They made things so simple while still allowing me to tailor the party to my needs. I added balloons, pizza, and an "open soda bar" at the snack stand for parents (all of which I paid for myself). I was able to have input, like to select colors, but I didn't need to obsess over things like I would if I had been doing it all myself.
2. Don't do it all. I've been to some birthday parties and there is so much going on that the kids are overwhelmed. Follow the KISS model: Keep It Simple Silly. Narrow down all your big ideas to a theme and one or maybe two activities. Kids do not need that much to stay entertained.
3. Remember the reason for the celebration. Moms can get so swept up in the party planning details that we forget it is supposed to be a celebration of the life of our child. Keep his or her likes in mind and try to tailor things to make it special just for her or him. My son loves LEGOS so we added LEGO-themed gift bags. He loves being active (like all boys) and so Monkey Joe's was a great choice for him.
4. Get the family involved. At the last minute I realized that I didn't have gift bags to put the goodies in. I didn't have time for a trip to Target so I pulled out brown paper lunch bags and my big box of crayons and set my three big kids up to color the bags. They turned out really cute and added a personal touch all the guests appreciated. Bonus: it cost me about a dime.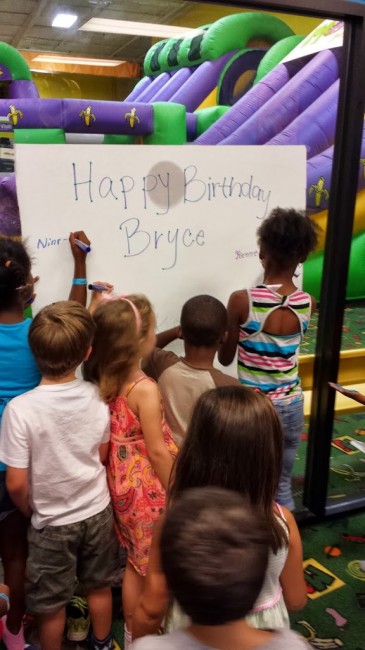 5. Know when to save and know when to spend.
I buy birthday cakes for parties. I love baking but the stress of doing it for lots of people is overwhelming to me. However, I will put together some cute gift bags designed around a theme or a child's special interest.
Special thanks to
Monkey Joe's-Roswell
for hosting my son's 5th birthday. Everyone had a blast! This location is the cleanest, nicest, most well-run inflatable play place I've ever seen. The staff was very attentive and went above and beyond their duty like creating a "handprint" banner, or giving us an extra balloon to take home when the 12 we bought flew away. If you are in Atlanta, definitely check out this location! And if you want a deal, go on
Wednesdays
when admission is just $5.35 all day.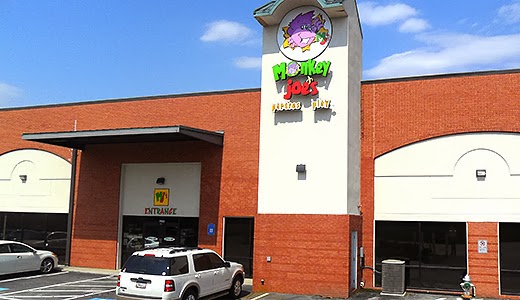 Monkey Joe's Rosweell