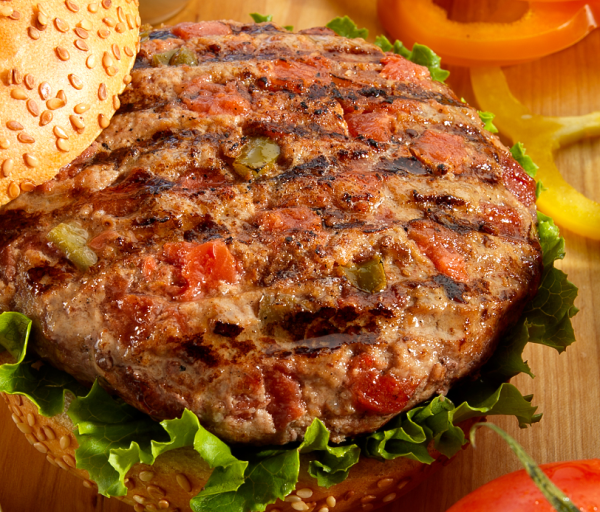 In preparation for my cooking segment on CBS46's Better Mornings Atlanta tomorrow (eek!), I have been practicing my turkey burgers. I'm making Red Gold's Spicy Turkey Burger and I'm hoping they turn out like the photo here. I found there are five steps to make turkey burgers stay juicy, delicious, and whole. I'm sure there are probably more than five steps to a great turkey burger but I'm a real mom with 4 kids who doesn't have time for lots of steps. So five it is!
Don't add salt. Salt is often added to beef burgers to bring out the taste of the meat. It is not needed in turkey burgers. It actually dries the ground turkey out. Go for a pinch of pepper or just try a combination of seasons to suite your taste.
Add vegetables for flavor. During Better Mornings Atlanta tomorrow I am added diced Red Gold tomatoes to the turkey burger. I am using the ones with jalapenos in it to give it some kick.
Add an egg. Adding an egg to the ground turkey and tomato mixture will help keep the burger from falling apart when you flip it. I am hoping and praying my burgers won't fall apart. But if they do just know I'M NO COOKING EXPERT…I'm just a Mom who knows once a burger is on a bun with some ketchup no one will know if it fell apart or not. Still, use an egg.
Use a hot grill pan. I will be using a stovetop grill pan to make the turkey burgers tomorrow. This makes it very easy to have "grilled" food throughout the year. But just make sure the pan is sizzling hot (preheated for about 5 minutes) before putting the burger on.
Flip it once. I'm notorious for flipping and reflipping my burgers but that's such a no-no. Letting burgers cook undisturbed will give them a good sear on the outside and help them stay together. (Sending up another 'please don't fall apart' prayer.)
Turkey burgers are great for moms because they are low in fat and cholesterol, and they are EASY. I tend to like easy…a lot. Want to see how these burgers look in technicolor? Tune into
Better Mornings Atlanta
tomorrow, Tuesday June 24, 2014 to check me out. I'm supposed to be in the 9:45 a.m. segment. And if you're willing…send up some supportive prayers for me. I would appreciate it!