Disclosure: I received travel and accommodations to Daytona Beach to view their family-friendly offerings. All opinions are my own. Be sure to hop over to Examiner.com to read the series of articles highlighting the best family-orientated things to see, do, and eat in Daytona Beach.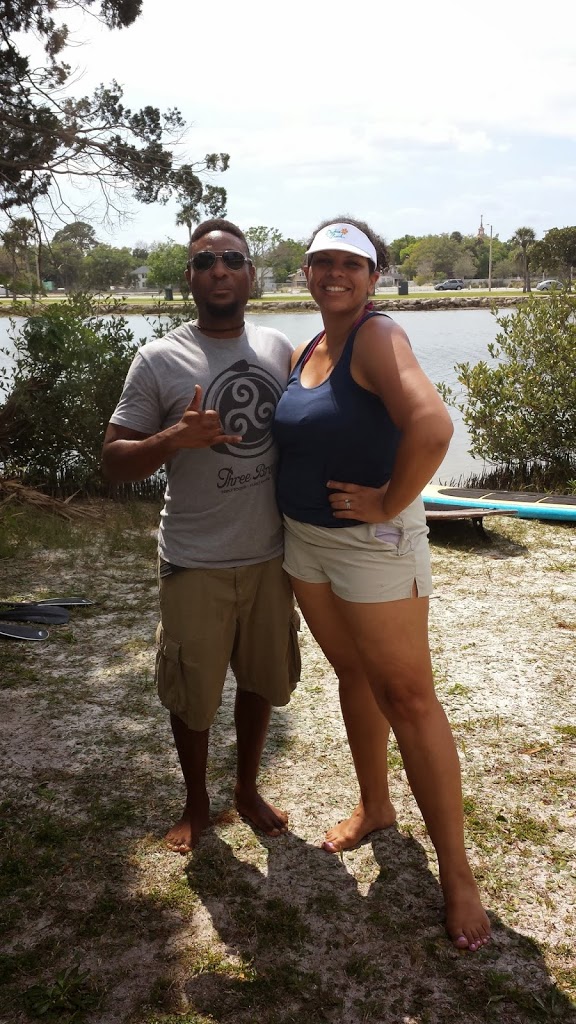 I recently was treated to trip to Daytona Beach. I went without my kids so I could concentrate and come back to tell you all the amazing things I found to experience in the rather quiet town five hours from Atlanta. I stayed a really hip luxury hotel, The Shores Resort and Spa, who served complimentary s'mores each night.(They know the way to my heart!) I spent time marveling over the art at the Daytona Beach Museum of Arts and Sciences, standing on hallowed ground at the Daytona International Speedway, and climbing the 203 steps to the top of the Ponce Inlet Lighthouse. It was all very exciting and interesting, but the one thing that stood out the most from my trip was my Stand Up Paddleboarding tour with Three Brothers Boards.
Stand Up Paddleboarding is a rather new sport that is a spin-off of surfing, except you stay standing on your board and use a paddle, like an oar, for balance and to propel yourself through the water. It was a fun yet intense workout, and an almost spiritual experience. Learning to trust myself in the middle of the Inter-coastal waterway, with sharks literally not far away, left me filled with pride and awe. Who knew I would learn life lessons from a Stand Up Paddleboarding experience in Daytona Beach? But I did.
Five Life Lessons Learned from Stand Up Paddleboarding
Plant your feet firmly. The key to keeping your balance on the paddleboard is to stand assertively with your feet shoulder width apart, head up, shoulders back, and weight balanced. This is how you should stand on solid ground, too. Never be afraid to stand tall, eyes focused on your goal.
Don't stop rowing. If you stop rowing, the current will carry you away from your goal, and it will also be easier to lose your balance. So keep rowing! Keep making strides in the direction you want to go and you will get there…eventually.
If you fall, get back up. While many people are able to go Stand Up Paddleboarding without getting wet, that's not always the case. Sometimes you will have a headwind, a stray current, or just lose your balance and you may fall. But that's OK. Get back to your board and start again. Just like in life, the lesson doesn't end just because you fall down.
Take command of your vessel. Having confidence to maneuver the paddleboard, and stay balanced and afloat, is the most important skill to learn. The current doesn't decide where you go, you do! The water doesn't say if you can stay steady or not, you do! Whatever your vessel is in life…your job, your family, your hobbies…take command of it to make sure it gets you where you want to go.
Remember to breathe. The one thing we all need to do every minute of our lives is often the one thing that we forget about when times get tough. When you feel unbalanced…breathe. When you are anxious about something…breathe. When your legs are wobbly and your arms are tired and you don't think you can go another stroke…just breathe. It will center you, steady you, and calm you.