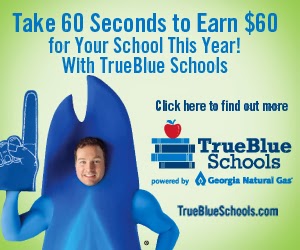 It is not until your kids are in school that you realize how much money is needed to teach them. From hiring high quality teachers to adding "extras" like technology, art, gym equipment, it all takes money. And with funding for public schools being cut year after year, without some outside revenue, schools really can't keep up. My daughter's school just had a fundraiser trying to raise $60,000 to fund projects the school needs. Unfortunately, they fell short of their goal. The good news though is that there are other ways to help your school get money, like True Blue Schools from Georgia Natural Gas.
And let me be clear, "your school" can mean your grandkids school, your neighborhood school, the school you graduated from, or perhaps the school your future kids will go to. All of them need money. I recently told you about Georgia Natural Gas's
True Blue Schools
program and how it is giving millions of dollars out to area schools (almost $2 million to date). Could your school use some extra money? Just by signing up for the True Blue Schools program your school can earn $5 every month. And what if 10 other families from your child's class signed up? And what if 10 more classrooms did the same? That would be $500 each month! It's so doable!
Georgia Natural Gas recently held a
True Blue Schools
Twitter Party and moms were really impressed with the program. I learned even more about the program and was really happy to be chosen to work with them. See what others are saying:
@couponsaregreat said:
I love that you can donate to #TrueBlueSchools without school aged children. Empty nesters and grandparents need to know! #TrueBlueSchools
— CouponsAreGreat (@CouponsAreGreat) October 2, 2013
@thebizymommy said:
Wow! Anyone can choose a school for donations to go to, even if they don't have kids. Tell the grandparents for sure! #TrueBlueSchools
— Tiffany Wong (@thebizymommy) October 2, 2013
@stacieinatlanta, the Twitter party host summed it up well by adding:
The monthly $5 #TrueBlueSchools donation is not added to your gas bill and costs you nothing, regardless of price plan you choose
— Stacie H Connerty (@StacieinAtlanta) October 2, 2013
Since Georgia Natural Gas loved the response of my last giveaway, they decided to do it again. Here's a second chance to win a $50 gift card to Target! It's super easy plus you're helping to spread the word about the fantastic FREE
True Blue Schools
program that gives money to area schools. Enter below…super quick and easy!