I grew up playing in the snow. In Wisconsin, it could snow in every month except June, July and August (no exaggeration) so we learned to cope with the cold and all the snow that came with it. But it wasn't all bad. I have very fond memories of building snowmen and snow forts, having snowball fights with my sisters, and going sledding down the neighborhood hills. Now, living in Georgia, I have often felt like my own kids were missing out by not getting to experience a "real" winter. But they don't have to!!! I just have to hike over to Stone Mountain Park and spend the day at their winter wonderland, Snow Mountain.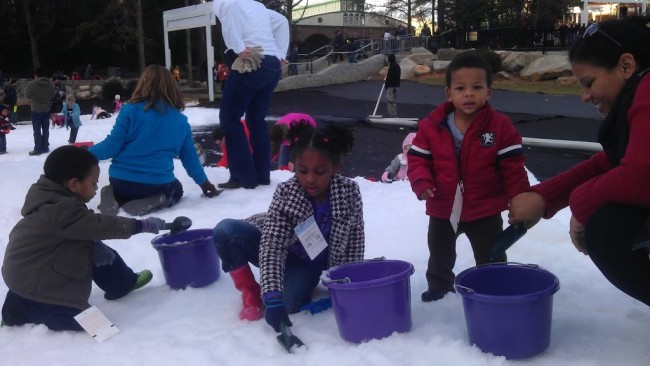 This is the second year I've taken the kids and they love, love, love it! It is the one event they talk about all through the year…always asking (even in July) when the snow will come back. It is such a novelty to them and I love how excited they get about it. They were able to build a snowman…ok…they attempted to build a snowman until they found out that snow is really, really cold on their little fingers. They played in the Snow Fort, went tubing on the family-friendly Avalanche Alley (even my 3 year old), and just had fun playing in the acres of snow in the "Snow Zone". They even had a tobogganing ride just for kids three and under!


KNOW BEFORE YOU GO
Tickets can be a little pricey when you add in a bunch of kids but believe me, it's worth it. Remember that kids under three are free. Also be sure to check the Snow Mountain ticket page for any specials they may have going on. Right now they have a combo pass to check out A Stone Mountain Christmas and Snow Mountain plus a meal and unlimited hot chocolate for $49.95/person (with a minimum of four tickets purchased together).
When you buy your ticket online, you will get a two hour time slot for tubing. Don't be late! It can take quite some time to get up to the top of the tubing hill and then come down and around to go back again. You don't want to waste any money!
After or before your tubing time, check out the Snow Zone. Even if you have big kids, they will like to throw a snowball at the Snowball Shooting Gallery or maybe they'll even get into the spirit and attempt a snowman or snow fort.
Warm up at SnoFire Point with some s'mores or roast a bag of marshmallows. You get a whole bag of marshmallows (enough for the family) for $3.95.
If it is a typical Georgian day, don't worry about wearing the big, bulky snow suits. (Who has them here anyway?) Just bring gloves and DEFINITELY bring a change of clothes for the kids. We changed the kids back in the car before we headed home so they were comfortable and warm.
Check out some discounts from Atlanta on the Cheap.
Tickets:
Snow Mountain tickets: $27/person (under three are free)
Parking is $10
Open now through February 20. Check the calendar for updated info.
It might seem like a splurge but this is one experience your Georgia kids will not forget. What a great Christmas present!