Good family friendly dining in Atlanta, or anywhere for that matter, can be a tough thing to find. Things that are super family friendly aren't always good. And ones that are so delicious, aren't typically family friendly. So what's a family of 6 to do? Do some research and find some hidden gems in different parts of town that are both!
3 Atlanta Restaurants Perfect for Family Friendly Dining
Midtown – BurgerFi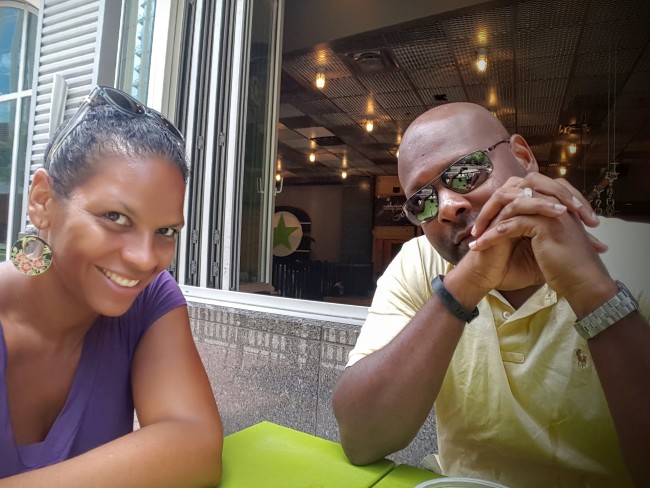 Come to Midtown for one of the best (and most upscale) burger joints you will ever visit, BurgerFi for some chic family friendly dining. Sit outside and people watch or keep it inside and get lost in a show on one of the many flat screens. Honestly though your food is going to take up all of your attention. It's that good.
BurgerFi has introduced a new gourmet burger called The CEO that is quickly becoming the big boss of the burger world. This bigger, better burger features two Wagyu + brisket blend beef patties, savory aged Swiss cheese, candied bacon-tomato jam and garlic truffle aioli sauce.  Want something lighter? Their veggie burger, Vegefi, was one of the best I've ever eaten.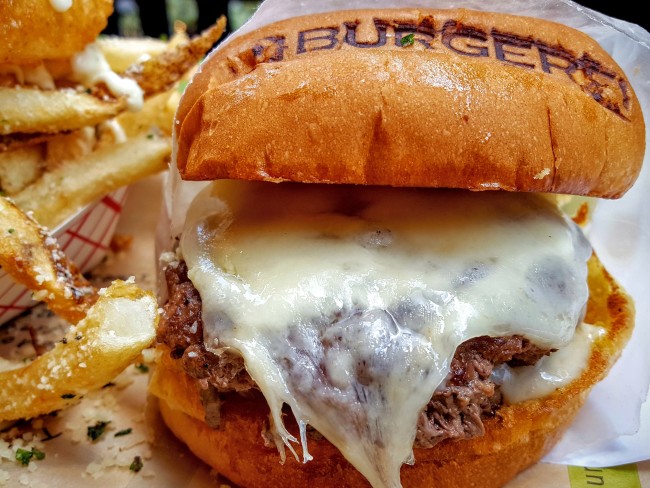 While you will come to BurgerFi for the burgers, but you'll stay for the frozen custard. Similar to the frozen custard I grew up with in Wisconsin, this frosty treat is super creamy and rich and when blended into a concrete it is all sorts of deliciousness!
 Location: 77 12TH ST NE, Atlanta, GA 30309 (Alternative locations at One CNN Center and near Emory University and 80 other places throughout the country.)
Buckhead – FLIP Burger Boutique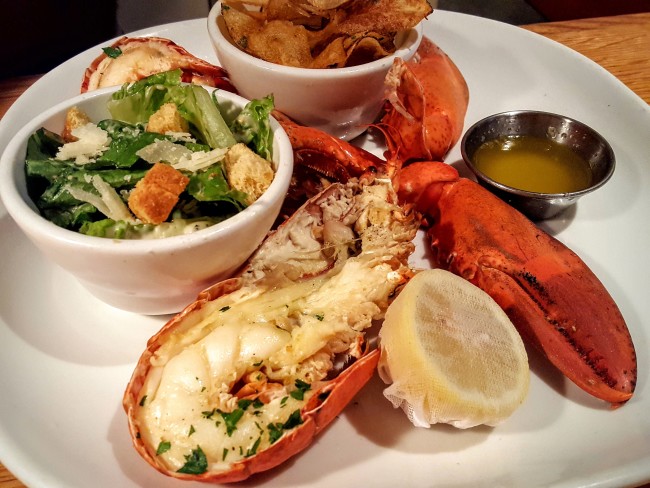 You thought I was going to write more about burgers, right? Everyone knows FLIP Burger Boutique has some great patties, but did you know they serve lobster too? Yes!  Every Wednesday night is Lobster night at the Buckhead FLIP Burger. But only until Labor Day so hurry in.
Lobster dinners are included in a family friendly dining round up? Yes! Bring your appetite and don a lobster bib to enjoy and crack open a whole poached Maine lobster with drawn butter accompanied by old bay dusted red potato chips and a FLIP Caesar salad all at an unheard of price….just $19.99. Be sure to come early on Wednesdays as FLIP will have a limited supply to ensure they are only serving the best lobsters. When they are gone for the night, they are gone! (Lobster night starts at 5 p.m.)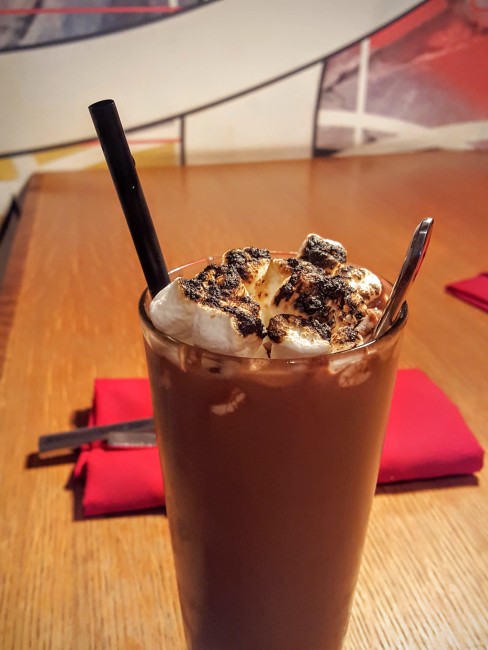 FLIP is the brainchild of Top Chef, Richard Blais. It is known for its high quality, unique ingredients, excellent customer service, and chic ambiance. At each location, FLIP exposes guests to its new food techniques, seasonal menu, creative bar selections, and the latest in music. I'm partial to the adult milkshakes.
Location: 3655 Roswell Rd NE, Atlanta, GA 30342 (Other FLIP Burger Boutiques can be found in Midtown as well as Birmingham and Nashville.)
 OTP (Outside the Perimeter) – Black Walnut Cafe Alpharetta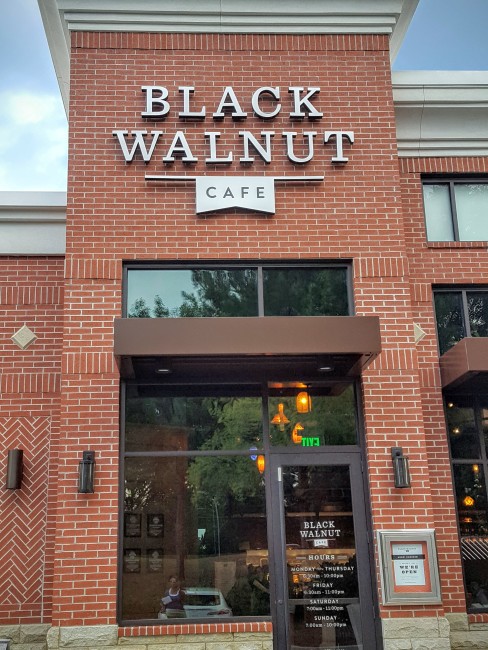 Black Walnut Cafe is a unique dining concept that recently opened in Alpharetta, GA. It offers an extensive menu of delicious American fare and it has a warm and inviting ambiance. It has an upscale flavor of fine dining, but the easygoing efficiency of ordering from the counter service makes it great for those looking for family friendly dining.
With a menu that offers something for every appetite and occasion, Black Walnut Cafe offers guests a dining experience that makes the most of their time, whether you want to hang out and relax for awhile or you know you have a limited time to be in a restaurant before at least one kid loses it.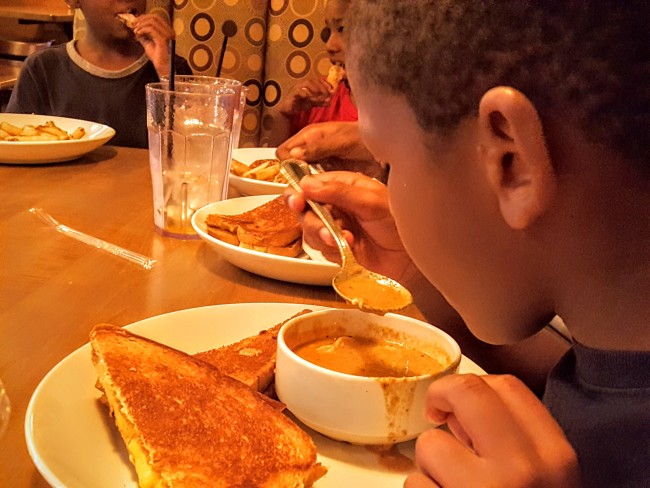 Using fresh, flavorful and quality ingredients, Black Walnut Cafe offers more than 100, made-to-order, unique dishes on the menu, each customizable to every guest's taste. The grilled cheese and rich creamy tomato soup were both big hits with my crew. It was nice that the menu balances familiar, classic comfort (grilled cheese) foods alongside more unique, original items (chicken and waffle sandwich, shrimp and grit cake) for an experience that works for everyone.
Whatever you order, be sure to save room for dessert though. The mile-high cakes are worth the extra hours in the gym afterward. I'm still thinking about that carrot cake…!
Location:  5805 Windward Pkwy, Alpharetta, GA.