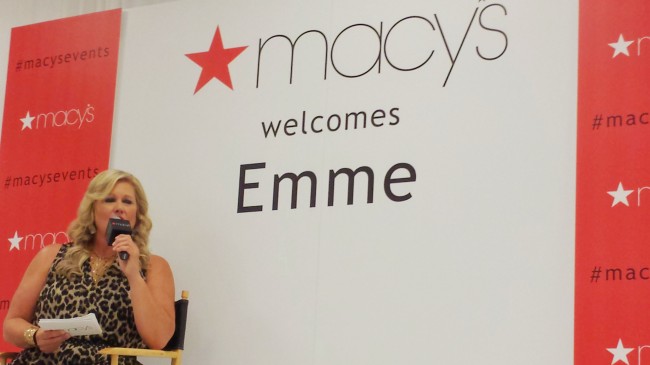 I had the opportunity to attend a Fall fashion show for plus-sized women at Macy's Lenox Square last week thanks to SheSpeaks. While I was compensated for my time, my real reward was getting to meet the host for the night, Emme, the world's first plus-sized super model. And for all us girls who never fit into the typical stereotype of beauty, she's been both trailblazer and s-hero.
Emme urged the plus-sized women in the intimate crowd gathered for the Fall fashion show to stop hiding our bodies under baggy clothes. "Wear skinny jeans." "Go for the leggings!" "Show some leg when wearing dresses." Emme, in a fashion-forward leopard print jumpsuit, wants plus-sized women to accept their bodies and flaunt their assets instead of trying to cover them up.

According to Emme, the trends for 2014 Fall fashion are well-suited for plus-sized women.  And Macy's has it all! Fit-and-flare dresses with classic touches, variations of long cardigans and skinny pants/jeans/leggings, and soft pants.  As a mom, these trends also fit into my lifestyle too. Although one year I'd love it if the Fall fashion trend watch could include high-waisted yoga pants and comfy t-shirts.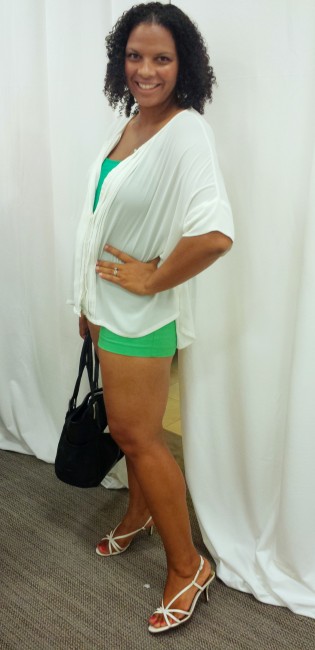 Since this event was a fashion show, I pulled out all the stops and donned a pair of fitted short shorts that looked even shorter on my 34″ inseam legs and a sheer ivory tunic. Though it was outside my usual comfort zone, it was fun getting dressed up. And Emme approved! Check out some of my top picks from the Macy's Fall fashion show for plus-sized women: