Do you know there is a fantastic, family and beginner friendly southern ski resort just hours from Atlanta, GA? Are you aware you can ski into March? And do you understand that by driving, staying in a comfortable but off-site hotel, and paying attention to deals that you can take the whole family skiing without breaking the bank? You can do all of this at Beech Mountain Ski Resort!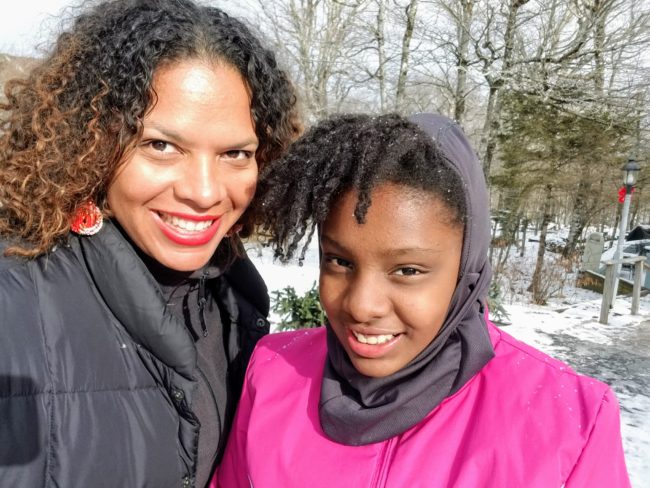 Beech Mountain is a southern ski resort that doesn't expect you to already be an Olympic ski jumper. The people are kind and helpful and no one laughs at you when you bail. (And I say this from experience. Too much experience.) My family of six visited Beech Mountain North Carolina recently and made some more amazing memories. For all the info on the Beech Mountain area, check out www.beechmtn.com. This is such a cool little town, I want to go back in summer and enjoy it then too! But for now, read on to see the six reasons you have got to experience this southern ski resort.
6 Reasons to Experience Beech Mountain, a Southern Ski Resort
1. Mild weather.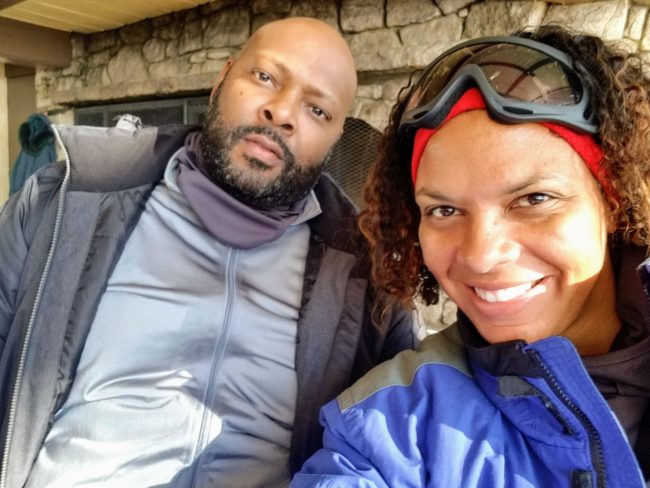 Ok. So I do have to say that when we went this year, Beech Mountain was experience record cold…like below zero cold. Typically though the weather is not as cold as you'd expect. We went two years ago and skied in fleece sweaters! I don't think you can do that in Canada.
2. You can drive.
The fact that you don't have to buy airline tickets for the whole family will save you tons of money. Beech Mountain is a pretty quick drive from Atlanta, coming in at about 5 hours. Just be prepared for winter weather driving conditions. Try not to arrive after dark when the roads may be icy. And go slow! What's your hurry after all!
3. There are great family accommodations.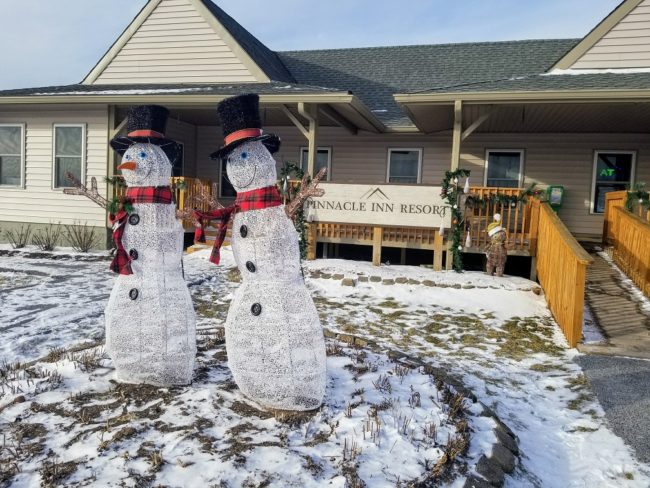 When you are rolling deep like my family, a standard hotel room is probably not going to be a good option. I was thrilled when I walked into the two bedroom, two bathroom condo at Pinnacle Inn. There was room for everyone. We could cook and eat in the unit if we didn't want to go out and there was even a fireplace! We didn't take advantage of it, but they also have a year round pool building if the kids want to have some indoor fun. Plus, it was just minutes to the slopes!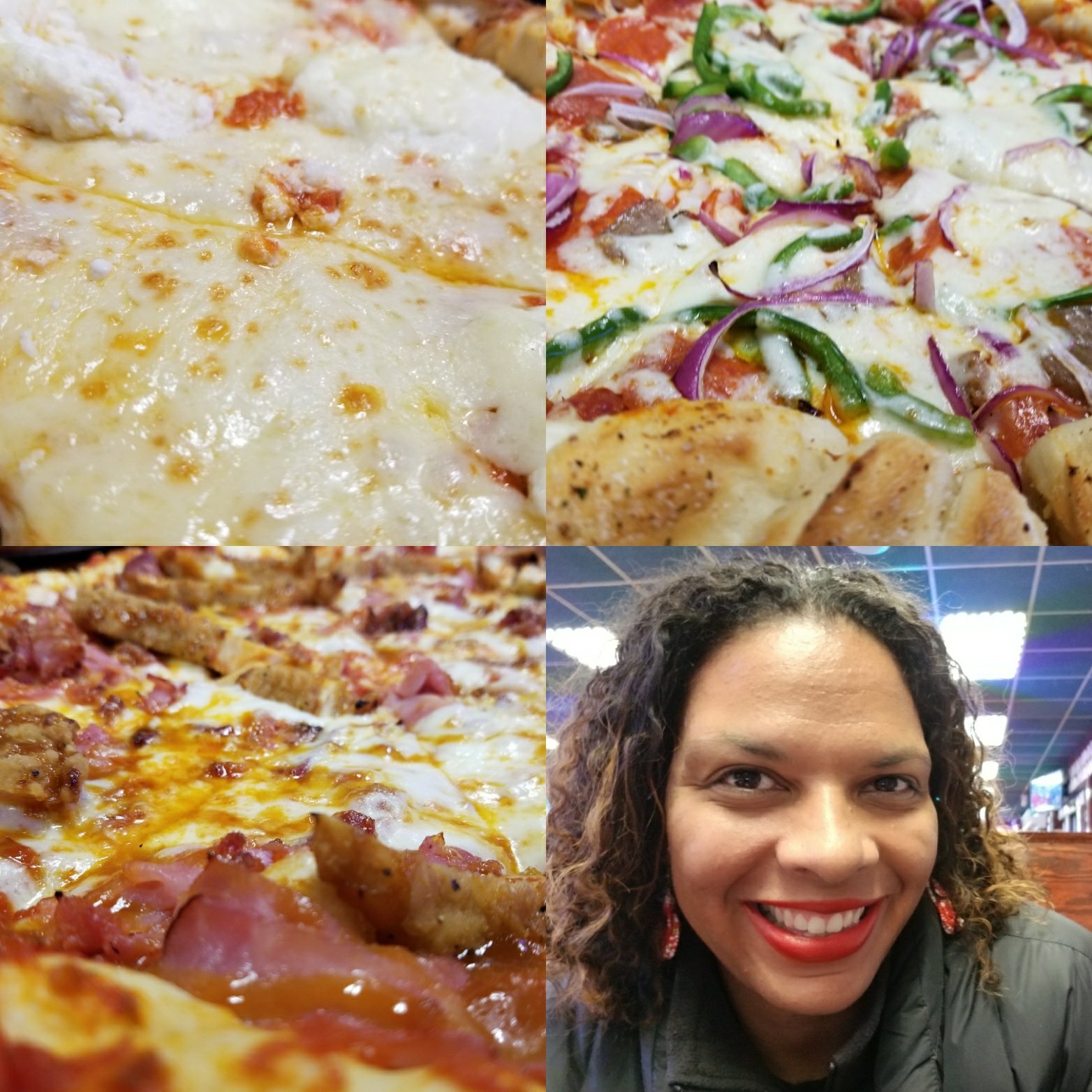 Oh and if you are looking for delicious, screw-the-diet food, Beech Mountain has you covered too. Don't miss pizza and pastries at Brick Oven Pizza and a hearty, hot breakfast (plus everything else you could ever need) at Fred's Backside Deli.
4. You don't need much.
There are some essential ski items you should get. However, Beech Mountain understands most of it's visitors don't have their own ski equipment. You can rent skis, boots, and even coats and ski pants for the whole family. Just be sure to get there early because when your size is gone…it's gone.
Check out the 13 ski items you absolutely do need and where to get them.
5. You can show your kids it's OK to fall.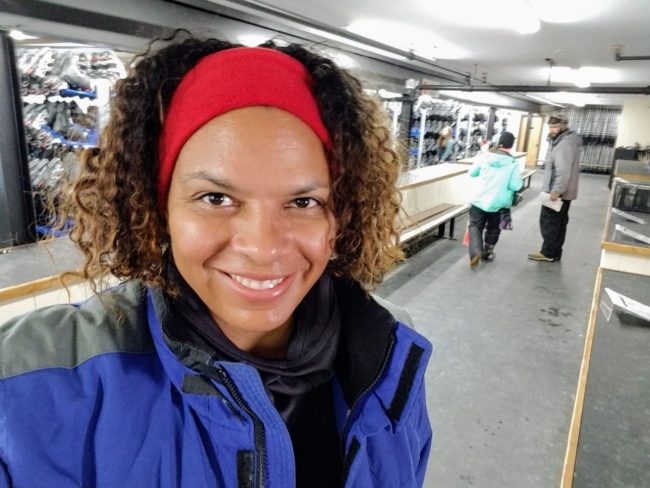 I have a bad habit of not doing things unless I'm really good at them. But the truth is that I need to try more things. I need to take more risks. After a day of ski school (which is a MUST for all families), my older two kids were whizzing down the mountain. They felt proud that they could give me pointers and I was proud that I actually made it down the slope without falling (by the end of the day). I showed them that no one is too old to try something new and that the fun is in the trying…not just the succeeding.
6. There are FAB discounts.
You don't have to break the bank to ski at this fantastic southern ski resort. With 16 trails and 6 lifts, you can easily spend several days here and not get bored. Rental equipment rates as well as lift tickets are extremely affordable. And if you go in March, you can save even more with their March Madness special which begins Monday, March 5th, and runs through the remainder of the ski season. During March Madness, skiers and snowboarders receive 25 percent off all lift tickets and rental equipment. This special deal is available seven days a week and cancels out all other discount promotions.
Read more about the Spring skiing specials at Beech Mountain Resort.