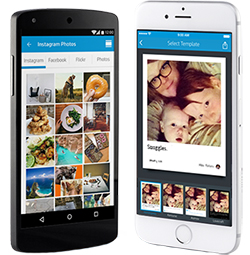 I love personalized gifts. Maybe the 9 years I've spent in the South is starting to change me. Down here they throw a monogram on EVERYTHING. My Midwestern sensibility screams, "No hand-me-downs then?" But my New South self kind of loves it. Personalized gifts just make it seem like you tried really hard…no matter if you did or not.
As part of the HP Smart Moms group with MomsSelect, I was recently sent a party-in-a-box to check out the new HP Social Media Snapshots. Currently available at Staples, these sticky-backed photo sheets are perfect for printing, display and reliving life's moments. And they can turn a card, gift bag, ornament, or anything else you can think of into a super easy personalized gift. With the free HP Social Media Snapshots app (for ios and android), you can print directly from your smartphone or tablet, and get all those great pictures out of your phone so you can see them IRL. Sure…put it on the 'Gram, but also put it on the 'fridge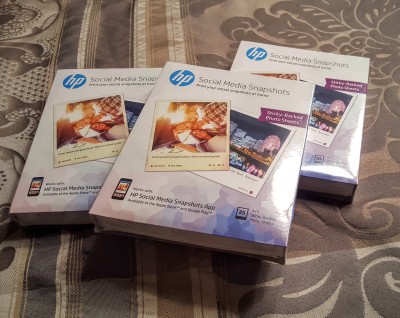 too.
HP Social Media Snapshots is available now at Staples. Want a deal? I have an exclusive offer to share! Now through November 30th, 2015, HP Social Media Snapshots are BOGO when you use this link and click "redeem now".
Personalized Gifts for My #StickaPic Party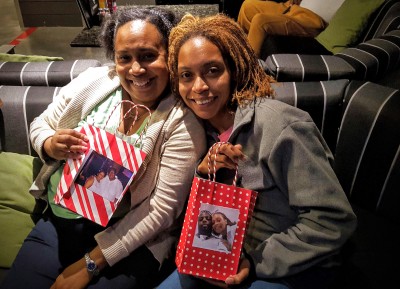 I was able to use the HP Social Media Snapshots to create some great gift bags and take-homes for a date night I planned for Atlanta Mocha Moms. I printed out some of my favorite marriage quotes on the sticky-backed HP photo paper and then encouraged the couples to go home and stick them somewhere they could see them.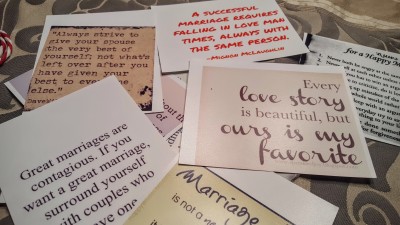 I also went into their social media profiles and printed out cute photos of the couples to use for personalized gift bags.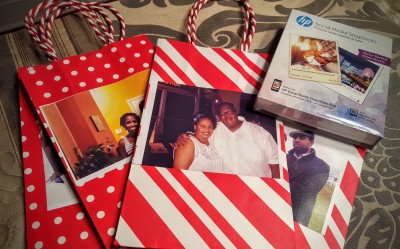 I brought some crafty, decorating supplies to help the ladies jazz up their photos and bags though it seemed like no one wanted to mess up their photos. They loved the idea and were really touched that I went through ALL that work. (I did eventually tell them it was super easy.)
I plan to used HP Social Media Snapshots to let my kids make ornaments for our family members. I'll print out the 4×5 photos and let the kids stick them on cardboard and decorate them. ("Yay…glitter!" Said no mom ever. But whatever.) Punch a hole in the top for a ribbon and it's a great ornament.
I have some fellow HP Smart Moms who are so crafty it's crazy! Take a look at some of their personalized gifts for the holidays using HP Social Media Snapshots:
What do you do for personalized gifts? Do you make them? Do you love them? Do you want to receive them? I'm interested knowing if I'm the only one with this new obsession.