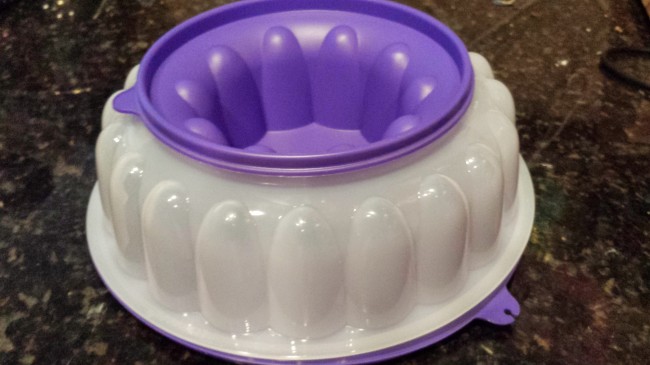 A teacher at my children's preschool gave me the Tupperware Jel-Ring this summer. She knows I have 4 kids and I only need things that make my life easier! She didn't ask me to write about her Tupperware business but I have to tell you about it anyway! I love it when women take matters into their own hands and work to create multiple streams of income. She's doing just that. If you need Tupperware or just want to see what's new and of use to you, check out April Cantrell's Tupperware business.
Now for the desserts. This Jel-Ring thing is amazing. I thought it was just a Jello mold. I was wrong. You can put anything and everything in there and pop it into the freezer for a unique and tasty dessert. I decided to just use what I had and make a Strawberry Banana Ice Cream Pie.
Recipe for Strawberry Banana Ice Cream Pie
1. I cut up bananas and placed them around the bottom.
2. Then, I covered the bananas with leftover strawberry frozen yogurt (about 1/4 of a 1/2 gallon container).
3. Next, I covered the frozen yogurt with the last of the whip cream (about 1/2 a can of Redi-Whip).
4. I crumbled 3 kinds of random cookies over the top (using about 6 cookies total).
5. Lastly, I put the cover on and put it in the freezer for 4 hours.
I served my strawberry-banana ice cream pie with chocolate syrup. It was a hit (to say the least) and because I used fruit, frozen yogurt, and low-calorie whipped cream, this is a pretty low-cal, low-fat healthy dessert too. (But don't tell my kids.)
Note: When you put it in the freezer, make sure it's not upside down (the flat side should be down).
Want another recipe for the Jel-Ring? Check out this jello mold that would be perfect for a holiday (or any) potluck!
Strawberry Cream Cheese Jello Mold
8 ounce cream cheese, softened
2 (3 ounce) pkgs. strawberry jello
2/3 c. sugar
2 c. hot water
1 c. chopped nuts
16 oz. can crushed pineapples, drained
16 oz. container Cool Whip
Cooking Instructions
Dissolve jello in hot water with sugar. Add cream cheese, stir until blended. Chill until partly set. Add nuts, pineapple and Cool Whip and beat with a hand beater. Pour into the Tupperware Jel-Ring Mold and chill for a few hours until set. Unmold onto a serving plate