Moms all over the country are looking for easy and healthy breakfast recipes. With school having started for some of us, and the rest of the country going back soon, mornings are about to get real. The craziness is always kicked up a notch when I don't have a pre-planned breakfast. That's why this easy and healthy breakfast muffin recipe from Juicy Juice works well for busy weekday mornings.
I am forever trying to get my kids to eat a balanced meal, but it seems I'm forever failing. Stuffing whole grain oats, two kinds of berries and minimal sugar into a delicious handheld meal can definitely help me. This recipe for Very Berry Oat Muffins is simple too! I can do it the night ahead of time or even days ahead of time and freeze the muffins for use during the week. An easy and healthy breakfast is not easy to come by so I had to share this recipe with you all!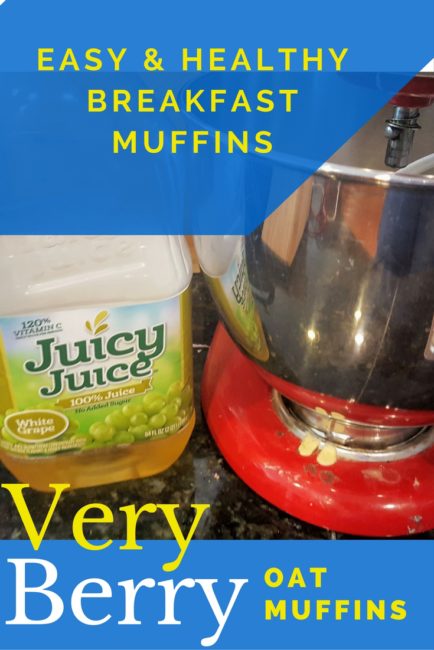 Want more mom-approved recipes? Check out this one for lettuce wraps. Try this delicious smoothie recipe. Or go to JuicyJuice.com for more recipes you can use to make your life easier and your family healthier.
An Easy and Healthy Breakfast: Very Berry Oat Muffins
Ingredients
1 1/4 cups all-purpose flour
1 cup rolled oats (not quick oats)
1/3 cup sugar
1 tablespoon baking powder
1/2 teaspoon baking soda
1/2 teaspoon salt
1 1/2 cups frozen mixed berries, unthawed or large strawberries halved or quartered
1 cup Juicy Juice 100% juice (try White Grape Juice!)
1/4 cup vegetable oil
2 large eggs
Directions
Preheat oven to 500°F. Grease a standard-size muffin pan. (You will reduce temperature to 400°F when you put muffins into the oven.)
Whisk together flour, oats, sugar, salt, baking powder and baking soda in a large mixing bowl. Add frozen berries, and toss with dry ingredients until well-coated. (This will help prevent the berries from sinking to the bottom of the muffin pan as they bake.)
Beat together Juicy Juice 100% juice, oil and eggs in a small mixing bowl until frothy.
Pour wet ingredients into dry, and mix just until combined, being careful not to smash the berries. Some lumps in the batter are okay.
Fill cups of muffin pan 3/4 full, and place in oven. Immediately reduce oven temperature to 400°F. Bake 15 to 20 minutes, or until a toothpick inserted into center of muffin comes out clean. (Berry juice is fine, but there should be no raw batter clinging to the toothpick.)
Cool in pan for 10 minutes, then transfer to cooling racks to finish cooling.
Makes 12 muffins.