Looking for Easter dinner ideas in Atlanta? You've come to the right place! The holy holiday of Easter is in two days. What are you eating? Or should I say, where you eating? Please just X out of pinterest and stop googling "Easter dinner ideas". Accept that it's not going to happen this year. Let it go and make peace with the idea that you will go out with your family to a fantastic dinner, lunch or brunch and let someone else do all the cooking, serving and cleaning and you can just focus on the wonderful Easter holiday!
See below for a list of 18 egg-cellent ways to celebrate Easter this year across metro Atlanta. These restaurants range from the gulp-worthy all out luxurious buffets to more budget friendly and casual options. Everything you had in your head for Easter dinner ideas can come to life…just let someone else do it!
18 Atlanta Spots for Easter Dinner
1. Le Bilboquet
This Easter Sunday, celebrate the occasion in style at Le Bilboquet. In addition to its regular dinner menu, Le Bilboquet will offer a special, prix fixe brunch menu for $65 per person featuring guests' choice of a mimosa or dessert, appetizer and entrée. Indulge in the restaurant's classic French dishes including pain perdu and Mediterranean quiche, in addition to Le Bilboquet's signature Cajun chicken and crêpes Suzette. To view the full menu, click here. For reservations, please call 404.869.9944.
Hop on over to Brezza Cucina's Easter Brunch on March 27! Chef Adam Evans has added special holiday offerings to the a la carte menu that put an Italian twist on classic Southern brunch dishes such as the Semolina pancake and the frittata del Giorno. Sip on a Mimosa Rossa, mixed with rosy Lambrusco di Sobrara, or the fizzy Campari Mimosa to wake up your taste buds before tackling Brezza's Easter-themed cocktail, the Brezza Jelly Beans'-tini. Brunch runs from 10:30 a.m. to 3:30 p.m. and reservations can be made via Open Table and/or Yelp Seat-Me.
3. Double Zero
If your Easter dinner ideas include Southern Italian cuisine (as they should), dig into Double Zero this Easter Sunday. The restaurant will be open during normal hours, from 5 to 9 p.m. and offer specials for the occasion. A perfect menu for sharing with family and friends, enjoy signature dishes such as the butternut squash frittelle,  l'arrosto, Double Zero pizza and lobster pappardelle. To reserve, call 404.991.3666 or click here. 
4. Ecco
Ecco is open once a year for brunch – on Easter! Don't miss out on this rare opportunity featuring a curated assortment of cured meats, cheeses, shared plates, appetizers, wood-fired pizzas, pastas and more to celebrate the special holiday. Click here to view the full menu, and please call 404.347.9555 for reservations.
Follow the Latin beat over to Eclipse di Luna for a tapas brunch this Easter! The restaurant's Dunwoody location will serve signature brunch items such as "huevos con pato asado" featuring ancho chili roasted duck with sautéed potato hash, poached egg and roasted garlic chimichurri, and "pan frances dulce" cinnamon and cardamom-spiced French toast with honey goat cheese and maple syrup. The Buckhead location will open at noon for the occasion and feature brunch favorites from Dunwoody's regular brunch menu.
6. La Tavola
Italians do everything better, including brunch! Head to the Highlands on Easter for the restaurant's award winning brunch menu, featuring poached eggs bruschetta, eggs with polenta and Applewood smoked bacon, house-made cannolis and more.
This Easter, head to West Midtown for a Basque feast at Cooks & Soldiers. Guests are invited to celebrate with an array of traditional pintxos served atop toasted bread, Basque small plates and meats, seafood and vegetables from the woodfire grill. For those with an appetite, share the chuletón one kilogram bone-in ribeye with Tempranillo bordelaise and ensalada verde. Toast the occasion with libations from the restaurant's extensive wine and beer list, craft cocktail offerings and selection of Basque specialties such as txakoli and cider. The restaurant will be open on Easter Sunday from 4 to 9 p.m.
8. Lure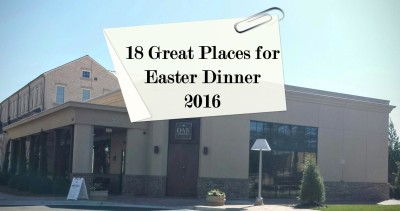 Join Lure for an Easter brunch "by the sea" with a three course prix fixe brunch menu from 10:30 a.m. to 7 p.m. for $30 per person. Menu items include Lure brunch favorites including English muffin with smoked whitefish and poached eggs, quiche with local veggies, seared scallops with butternut squash and apple cider griddlecake, and more. To view the full menu and make reservations, please click here.
Gather friends and family to join Oak Steakhouse for a special Easter brunch in Avalon! From 11 a.m. to 3 p.m., executive chef Eric Zizka will be serving up some featured brunch specials along with crowd favorites such as the poutine, stuffed French toast, lobster grilled cheese and grilled steak and eggs. For reservations, please call 678.722.8333.
10. Portofino
Located in a quiet pocket of Buckhead, Portofino offers a charming setting to escape from Atlanta's hustle and bustle. The Italian-American gem recently launched Sunday brunch service, perfect for a sunny Easter celebration on the patio, paired with a glass of Prosecco or refreshing cocktail. Enjoy Portofino's Bloody Mary option featuring your choice of artisanal garnishes. Signature dishes include dill and brown sugar cured salmon, duck benedict and shrimp and polenta, as well as a selection of pasta dishes such as fettuccine carbonara and bucatini all'Amatriciana. Reservehere.
11. Shake Shack
Just looking for dessert? I get it. In celebration of Easter, Shake Shack will offer an Easter Egg concrete, featuring vanilla custard, Mast Brothers buttermilk chocolate and salted caramel sauce, between Friday, March 25, and Sunday, March 27. Hunt for a gold sticker under your Easter Egg concrete cup for a chance to find a gold sticker and win prizes.
12. Southern Art
With Easter just around the corner, marking the unofficial beginning of the spring season, Southern Art invites guests to make Easter Sunday a family affair this year and hop on over to the Southern restaurant for an EGG-citing day of holiday festivities for the whole family to enjoy. From 11:30 a.m. to 3 p.m., friends and families enjoy a delicious brunch spread of assorted breads and pastries, artisanal ham, charcuterie and cheeses, seafood, soups and salads. Traditional Easter brunch options will also be available at the various carving, omelet and dessert stations. After brunch, children can spend the afternoon hunting for Easter eggs (at 1 and 2 p.m.), enjoying the petting zoo, meeting the Easter Bunny and getting their faces painted. The Easter brunch and egg-stravaganza is $75 for each adult, $40 for children 12 and under and complimentary for children 6 and under. To make a reservation, please call 404.946.9070.
13. South City Kitchen Midtown and Vinings
South City Kitchen Midtown and South City Kitchen Vinings will each offer a three course prix fixe Easter brunch or Easter dinner menu featuring South City favorites and new exciting flavors. Available from 11 a.m. to 7 p.m. at both locations, the menu is $35 per person and $17.50 for children under 12, plus tax and gratuity. Menu items include old Charleston she crab soup, smoked brisket benedict, Springer Mountain Farms fried chicken and more. For more information and to make reservations, click here (Midtown) and here (Vinings).
14. Sugo
Enjoy family recipes without making a mess in the kitchen for Easter this year at Sugo. Celebrate Easter dinner with family and friends with Mediterranean-inspired dishes such as bacon-wrapped dates, eggplant parmesan, meatball al Sugo and Federico's braciole. The restaurant will be open from 5 to 9 p.m. for the occasion. To reserve, call 770.817.8000 or click here.
15. The Iberian Pig
Hop over to Decatur for Easter dinner or brunch at The Iberian Pig. The restaurant will open at noon and offer its regular menu with brunch specials. Throughout the afternoon and night, enjoy acclaimed tapas such as pork cheek tacos, shrimp escabeche, rabbit empanadas and bacon-wrapped dates, as well as signature cocktails including "The Iberian Old Fashioned" made with bacon-infused rye. To reserve, call 404.371.8800 or click here.
16. The Ritz-Carlton, Buckhead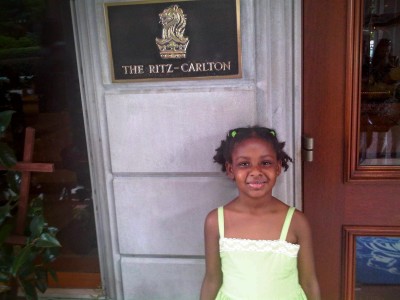 The best brunch in Buckhead is offering an even more extravagant celebration on Easter Sunday. From 10 a.m. to 4 p.m., The Café at The Ritz-Carlton, Buckhead will feature an Easter Bunny, egg hunts every hour on the hour and even an exotic petting zoo with animals including kangaroos, camels and monkeys. There will also be an extra-enhanced culinary selection, including 25 cheeses, caviar, hand-rolled sushi, an espresso station, ice sculptures and more. Reservations for Easter Brunch are available now. The cost is $125 per person, and $69 for children. Please call 404.237.2700 to make reservations.
17. The Ritz-Carlton Reynolds, Lake Oconee
Take an Easter getaway to The Ritz-Carlton Reynolds, Lake Oconee and enjoy the resort's special calendar of festive activities, including:
·         Tuck-Ins – The Easter Bunny is making a special trip to Lake Oconee for Easter Bunny tuck-ins on the evenings of Friday, March 25, and Saturday, March 26, from 7 to 10 p.m. The cost is $50, and reservations are required. Please call 706.467.7130 to reserve your child's tuck-in.
·         Easter Egg-stravaganza – On Saturday, March 26, at 1:30 p.m., join The Ritz-Carlton Reynolds, Lake Oconee for its Easter Egg-stravaganza – a field day full of games, relays and races themed around Easter. Test your speed at the Bunny Hop Sack Race, partner up and win the egg relay, or get a little messy in the egg toss competition. Later that evening, the resort will be showing "Rise of the Guardians" at the infinity pool at 8 p.m.
·         Easter Egg Hunt – On Sunday, March 27, The 14th Annual Ritz-Carlton Reynolds, Lake Oconee Easter Egg Hunt will be held at 10 a.m. With the backdrop of picturesque Lake Oconee and hunting areas set up for different age ranges, there is fun to be had for all ages! Each egg will have either a toy, candy or a ticket, and tickets can be combined and used at the Easter Carnival to play games and win prizes. Don't forget to snap your photos with the Easter Bunny at the conclusion of the egg hunts. Reservations are not required, but highly encouraged. Please dial 706.467.7130 to sign up.
18. Wahoo Grill
Celebrate Easter at Wahoo!  Grill, Offering an extensive version of their Sunday Brunch Buffet, including items such as crab cake benedict and delicious French toast, in addition to their a la carte menu. Wash down brunch with a selection from Wahoo's! one of a kind Bloody Mary menu.
Where will you go?